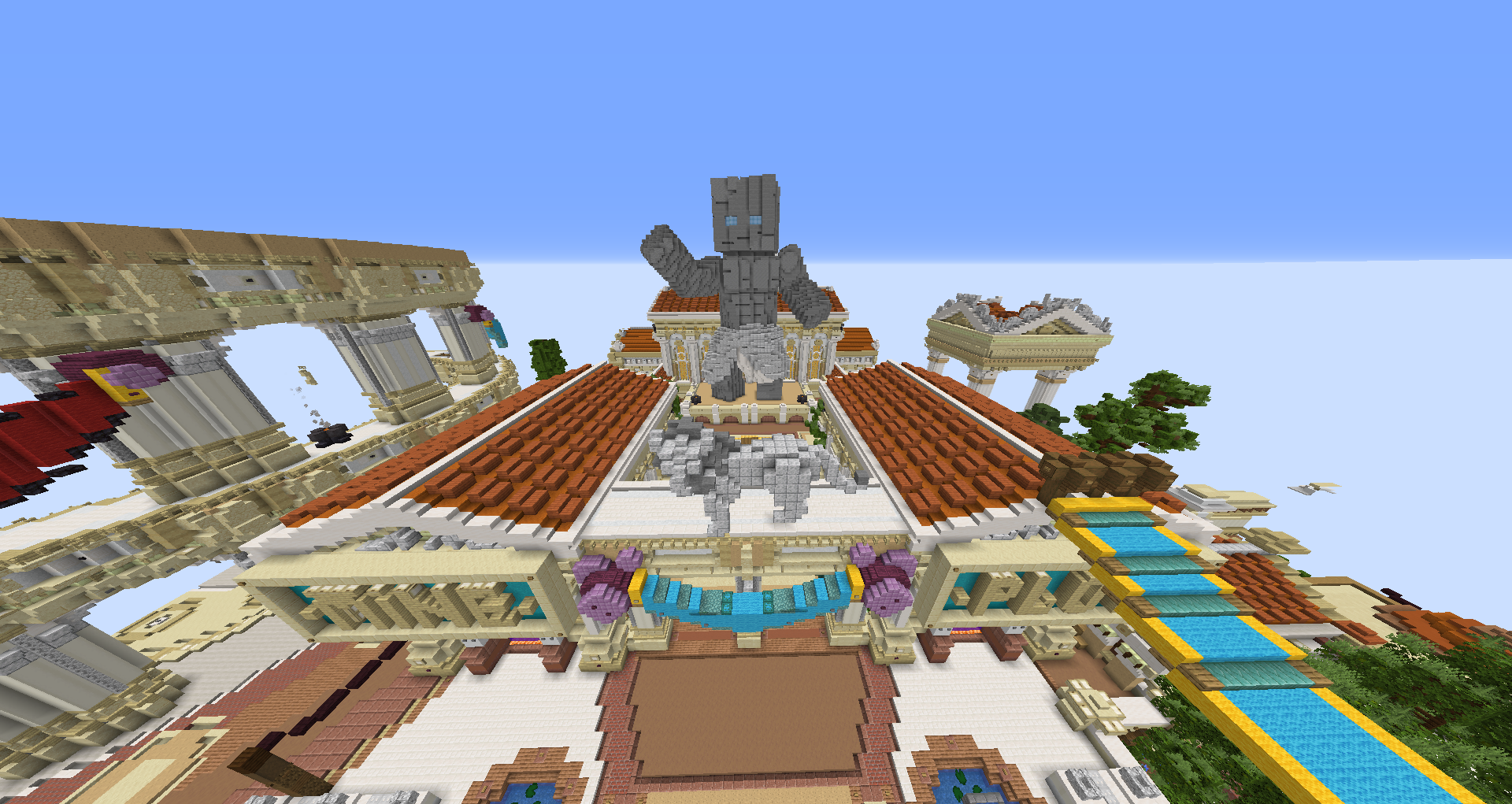 Many player commands are the same across all game modes. These commands are covered in the Common Commands article.
The commands associated with specific ManaCube features, such as Ancient Trials, Kilton, Chat and Character features, etc. are covered in those specific articles.
Commands that are more specific to Olympus are covered below.
See also Help Commands and Getting Help articles.
/tutorial - Lists some helpful commands. You can view our get started section for more information.
/help or /wiki - Will provide you with additional information about commands.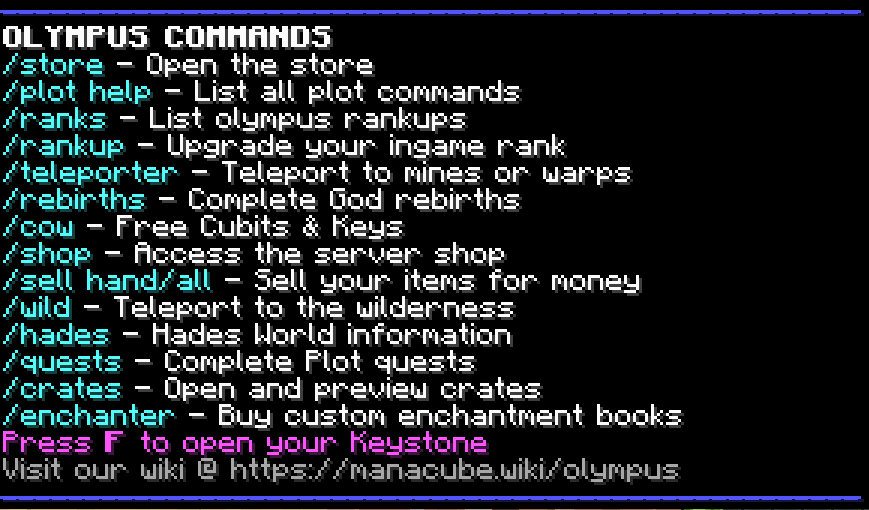 ¶ Basic Commands
/ranks - Displays the list of prison ranks, from Peasant to DemiGod.
/rankup or /ru - Allows you to rankup and proceed to the next Prison Rank. Costs a specific amount of money depending on what rank you are ranking up to.
/maxrankup - Allows you to rankup to the maximum possible Prison Rank based on your current balance.
/mining - Shows your total amount of Mining XP, as well as how much XP is needed to get to the next Mining Level.
/exchange or /upgrade - Lets you upgrade your tool for Mana
/fix - Fixes the tool in your current hand for $150,000. Players with the donor rank, MVP, and up can use it for free.
/stats - Player stats
¶ Rebirth and Prestige Commands
/rebirth - Opens the rebirth menu to rebirth and prestige.
/ascend - Opens the Ascension menu to ascend.
/milestones - Opens the menu to complete various milestones.
/trials - Allows you to go to the trials lobby to complete the Ancient Trials.
/achievements or /a - Displays all of the possible Achievements to complete and requirements to complete each one.
/hugback- Automatically hugs the last person that hugged you, unlocked with the Aphrodite rebirth
/heal - Completely restores your health and hunger bar, unlocked with Hera rebirth.
/nv - Turns in permanent night vision, unlocked with the Artemis rebirth.
/smite <name> - Strikes a specified player with a lightning bolt, unlocked with Zeus' rebirth.
Marry, Hugs, Feelings and additional features are detailed in other articles. Basic player interaction commands are explained in Common Commands


¶ Currency & Economy Commands
Detailed information on Chest Shops, Auction House, Trading, Coinflip, and Lottery commands can be found in the Currencies & Economies article. The commands relating to various currencies, such as Mana are also detailed there.
/sell - Sells ores and blocks in your inventory from the mines for money.
/shop or /shopgui - Shop where you can purchase blocks, farming items, etc.
/clan bank - Deposits mana into a shared bank between your plot members.
Detailed information on the Olympus Enchantments are covered elsewhere.
/tinker - Opens the Tinker menu to trade in custom enchantments for mystery dust.
/blacksmith - Opens the Blacksmith menu to combine custom enchantments and success magic dust.
/alchemist - Opens the Alchemist menu to combine custom enchantment books of the same level.
/ce - Allows you to purchase custom enchantment books with XP.
/enchant <enchantment name> - Tells you what a specific custom enchantment does.
Additional navigation commands are shown in Common Commands article.
/spawn - Teleports you to the main spawn.
/mine or /warp - Allows you to warp to the mines faster
/warp hades - Teleports you to Hades' Volcano and requires completion of the Hades' rebirth to
use.
/keystone or /menu - Opens a menu that lets you navigate around the Olympus server with multiple warps.
/warp crates - Teleports you to the crates area to use crate keys.
/warp boss - Teleports you to the boss room.
/backpack - Once purchased for 175,000 mana, it opens up a backpack that's used for extra storing or for extra ores to go into while mining. It is not affected by the Autosell enchant.
/enderchest or /ec - Opens your enderchest storage.
/pv (#)- Opens your player vault to access at any time.
/ci- Clears your entire inventory.
/plot vault- Displays plot vault (must be standing on the plot to access).
¶ Plot Commands
A complete list of plot commands can be found in the Olympus Plot World Article
/plot - Opens the Plot GUI.
/cosmetics - Opens the cosmetics menu.
/chat & /color - Opens the chat color menu.
/glow - Opens the character glow menu.
/pet - Opens the pets menu.
/tags & title - Opens the tag menu.
/wardrobe - Opens your player wardrobe.