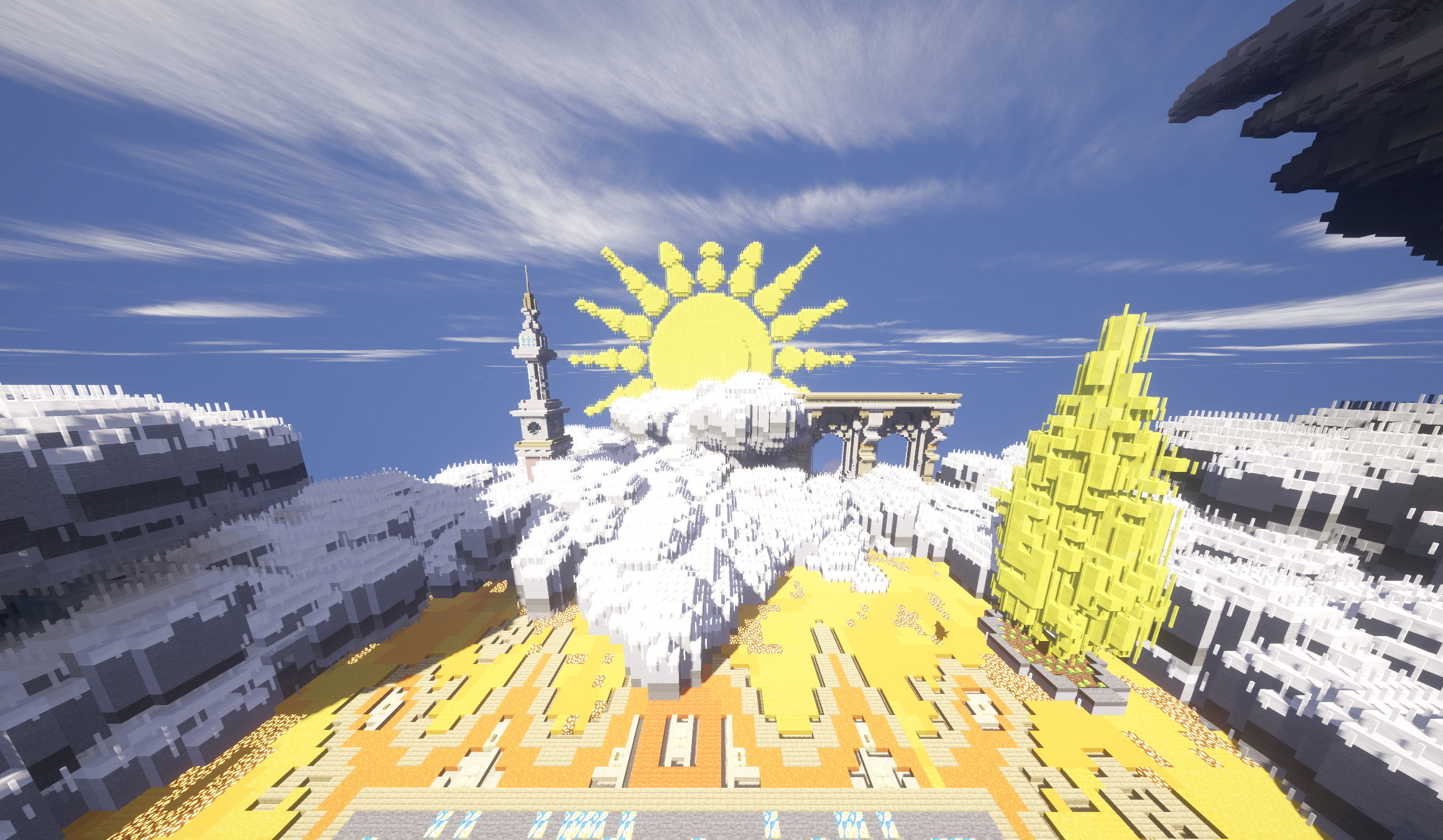 When you first log on to the server, you will be given a starter pickaxe with Efficiency 10 and Unbreaking 20. If you lose your pickaxe, you can always receive a new one every 30 minutes by typing /kit pickaxe. Starting out, you can begin to mine for money by teleporting to the mines.
The menu to warp to the mines can be accessed through /warp or /mine.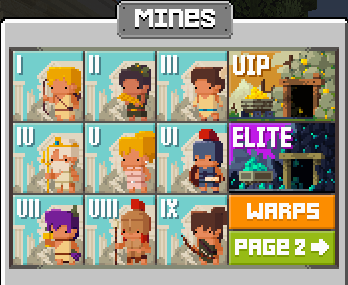 Once at the mines, you are able to mine blocks and ores. Any materials that you mine can be sold for money with /sell. If your tool is about to break, be sure to repair it by right clicking your pickaxe and going to the bottom left. Each time you repair your tool, it will have a fee of $150k, but players with the Donator Ranks MVP, MVP+, and ELITE have free repairs.


To the right of your screen, you will notice a sidebar that displays most of your stats, allowing you to easily track your progress without using multiple commands. When you are in spawn world the sidebar shows money, mana, souls, cubits and rebirths. If you are in the mining world the sidebar also shows your rank, mining level, xp required to level up, total gifts opened and how far you are from rankup.
Money - This will keep track of your current money balance (/bal).
Mana - This will keep track of your current Mana balance (/p me OR /mana bal).
Souls - This will keep track of your current souls balance (/souls OR /kilton).
Cubits - This displays your global Cubits balance.
Rebirths - This displays the amount of rebirths you have. You can rebirth through /rebirth.
Rank - Displays your current Prison Rank.
Mining Level - This will keep track of your current Mining Level.
XP to Level - This will keep track of how much mining XP you need to get to the next mining level.
Gifts Opened - This displays your total Gifts from The Gods or Hera's Gifts opened.
/Rankup - This displays your total progress until you are able to /Rankup.
When you earn enough money, you can /rankup and progress to a higher prison rank. Higher ranks will unlock more mines that allow you to mine more profitable blocks, such as terracotta.
You can view the amount of money needed for each rank by typing /ranks. There are a total of 12 prison ranks, where you start out at Peasant and work your way up to the final rank, DEMIGOD. At DEMIGOD rank, you are able to complete an Olympian God/Goddess's challenge and /rebirth, or prestige, which gives +1 rebirth count and sets you back to Peasant rank.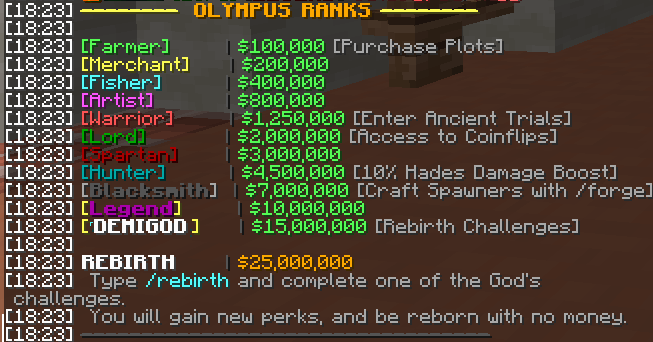 Farmer rank allows you to claim plots in the Plot World, where you can create farms, grinders, chestshops, and structures.
Warrior rank grants access to the Ancient Trials, which is a 10 round Player Vs. Enemy arena where you fight different mobs. The completion of the Ancient Trials is needed for one of Athena's challenges.
Lord rank grants access to Coinflips.
Hunter rank gives 10% hades damage boost while fighting against the underworld monsters.
Blacksmith rank allows you to craft spawners with /forge, requiring core fragments from monsters killed.
DEMIGOD rank unlocks rebirth challenges from Mount Olympus.
While mining, you may notice that the amount of Mana you have is increasing as well. Every block broken gives you 1 Mana. Mana is the main player currency and is widely used in trading through the Auction House, /ah. Most commonly, it is used to purchase enchantments for pickaxes through /exchange to make them more efficient while mining. The server also offers many Custom Enchantments for weapons, armor, and tools. It can also be spent coin flipping with other players.
Similarly to Mana, every block broken also gives 1 Mining XP. Mining XP is not given for blocks broken in plots. The amount of Mining XP needed to go to the next Mining Level increases exponentially, at a greater rate. Mining XP is unable to be transferred between players.
To check how much Mining Experience is needed for the next level, you can type /mining.

Mining Levels span from level 1 to level 1000. Mining level 75 is one of the requirements to buy and use Trench 1 and mining level 100 is needed for one of the Hephaestus challenges. Any mining level above level 100 does not grant any more perks, but can be used to flex.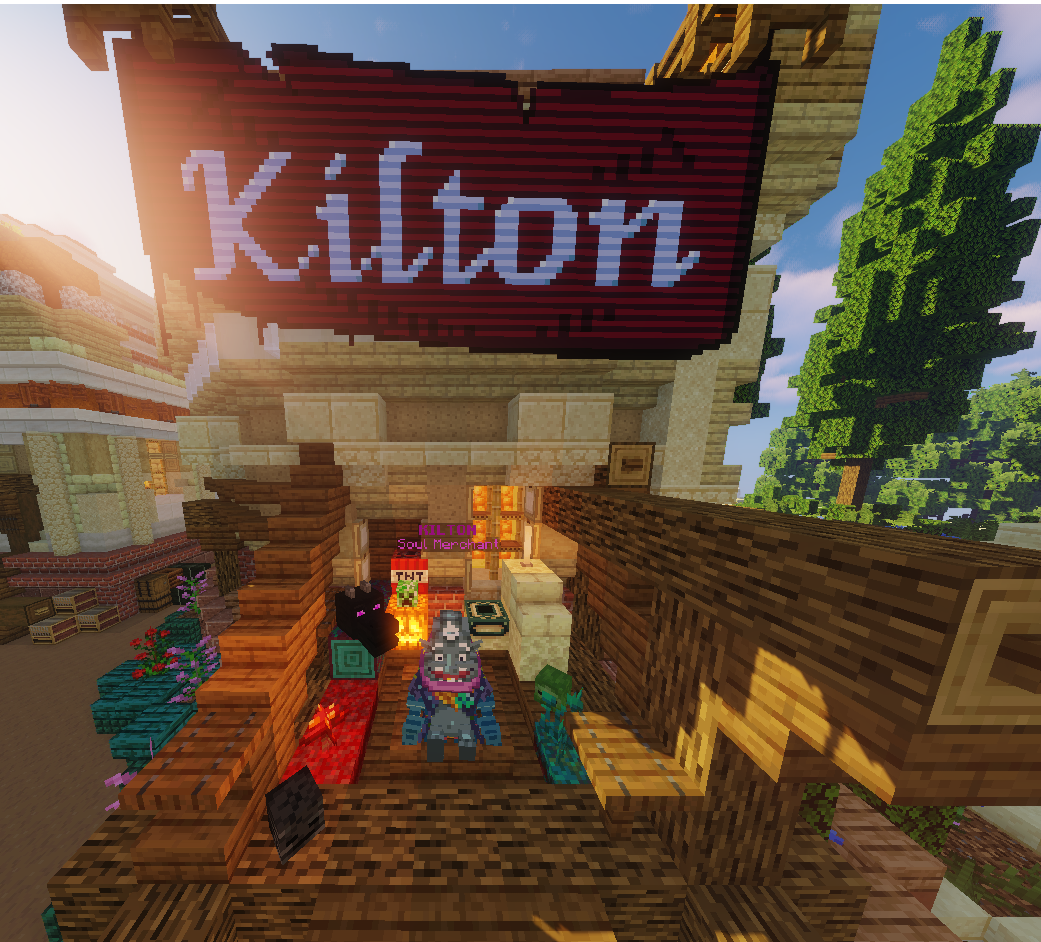 Kilton is a merchant where you can trade in Mob Heads for souls. Mob heads can be obtained by manually killing mobs. Each mob killed has a 10% Mob Head drop rate. Each head is exchanged for 1 soul each. Souls can be used to buy things from the Soul Shop.
The Kilton menu can be accessed through /kilton.