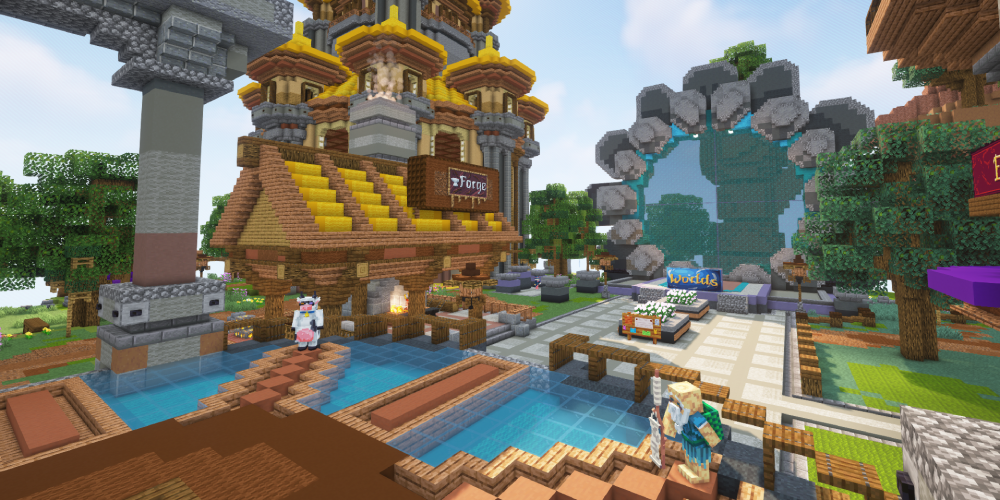 When you enter the Survival server, you will join the Survival servers spawn area, where you can find crates, Daily Rewards, Season Crates, leaderboards and even some hidden secrets such as new shops and NPC's to interact with! Survival is a friendly and peaceful server, that does not include raiding or griefing in claimed land. PvP is enabled in the wilderness, but KeepInventory is on so you will not lose your items if you die.
Upon entering the Survival World, you can use the kit, /kit starter once to obtain some useful items to begin your Survival journey.


One of the first steps is to create your party with /p create. While you may try to join an existing party, most will not add new members they do not know and trust. You are likely best to create your own party and begin building your wealth while building relationships with other players and showing you are trustworthy. You will then have the choice to continue playing solo, add members to your party, or disband and join another party.


NOTE: When you first join the server and type in chat, before you create a party, you will have Member next to your username which will look similar to this:

Once you have created (or joined) a party, your Party Name will be displayed here, by your username or nickname.
¶ Claiming Land For Your Party
Once you have created your party, you will be able to claim land. You may use /wild or /rtp to teleport to the wilderness where you can scout a location for your base. When you are ready to claim land and build your base, check out the Party Commands available.
NOTE: Once you claim land be sure to /sethome so you can locate your base again with /home. If you happen to forget, Survival Mods can often find your base for you. Please use /helpop or use other means of getting help.
TIP: Our claiming system uses chunks. Chunks are a 16x16 block radius and claim from bedrock to the maximum height limit, 256. 1 chunk = 1 party claim.

To see chunks, press the keys [F3]and [G] together, which will look like this:

You can also use /p border to outline your claimed chunks.
To see available or claimed land, use /p map.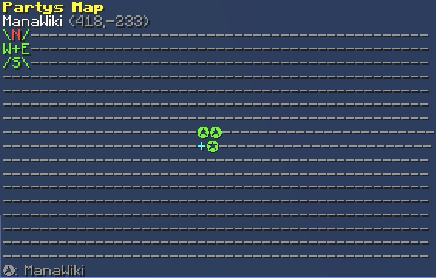 Dashed lines [ - ] represent unclaimed land, while the star symbols [ ✪ ] represent claimed land by a party.


Party Claims are the amounts of chunk claims a Party can have and depends on the number of players in the Party. To start, each player has 5 claims. Party claims can be viewed in the /p manager or on the featherboard to the right of your screen. The max amount of claims possible for a party is 2640.


Add more members. Each member has 5 claims by default. Completing all party quests will give you the 40 max member limit.
Completing all /ranks will give you a bonus 26 claims.
VIP - 10 Bonus Claims
VIP+ - 15 Bonus Claims
MVP - 25 Bonus Claims
MVP+ - 30 Bonus Claims
Elite - 35 Bonus Claims
Member leaves or is kicked from party
Member is kicked for inactivity
WARNING: When someone leaves the party, your amount of party claims will decrease, this will sometimes cause you to "overclaim" land. Please manage your claims to keep the amount of claimed land below your maximum amount of claims. If you overclaim, staff will ask your party to unclaim land.
¶ Setting Party Permissions and Rules
If you decide to join or create a new party, it is important that you set your Party Permissions. These perms will not only control the permissions of your party members, but also determine what members of other parties are able to do inside of your claims. The command /p perms will open a menu to set permissions for both your party members, and members of other parties. For more information about Party Permissions, see the Party Manager article.
Most parties find it useful to set party rules to ensure members are aware of how they are expected to behave. Parties typically require members to follow ManaCube rules. However, they may also set rules such as forbidding the killing of other member's pets, don't touch other party members items or builds, claim a fair amount of land so other members are able to claim their builds, or don't ally other parties without permission from the party owner, etc.
The featherboard is the section that is located to the right-hand side on your screen. While it contains useful information, some prefer to remove this display. You may toggle the featherboard by doing /fb toggle, /fb off, /fb on. These commands will either remove or add the featherboard to the right-hand side of your screen.
Money - This will keep track of your current money balance (/bal).
Mana - This will keep track of your current Mana balance.
Souls - This shows the amount of Kilton Souls you have.
Cubits - This displays the current amount of cubits you have.
Fishpoints - This displays the current amount of fishpoints you have.
Party - This shows the name of the party you are currently in.
Claims - This shows how many chunks you have claimed out of the maximum amount of claims you are able to have.
Level - When you create a party, you start with 1 party level. Use /p level to raise your Party Level. The featherboard will help keep track of this.
Bank - This will display the current money balance that is in your Party Bank.
Prestiges are challenges that you can complete in exchange for perks and items. By ranking up, the perks and items that you receive are more rewarding. Typing /prestige will bring up the GUI to upgrade your rank.
NOTE: Prestiging will reset your rank and increase all objective requirements. You need to be at least VIP rank purchased through the website or cubitshop to prestige.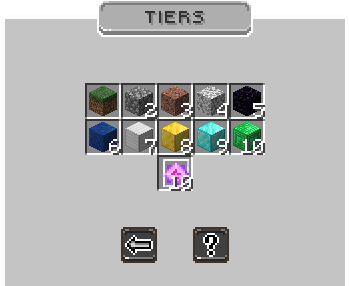 Survival Prestige Gui
Rank 1

Requirements:
Rank 2

Requirements:
Rank 3

Requirements:
Rank 4

Requirements:
Rank 5

Requirements:
Rank 6

Requirements:
Rank 7

Requirements:

Catch 30 magic pond rewards
Rank 8

Requirements:
Rank 9

Requirements:
Rank 10

Requirements:
Prestige 1.0

Requirements:

Complete all 10 rankups
Pay 10,000 mana

Rewards: