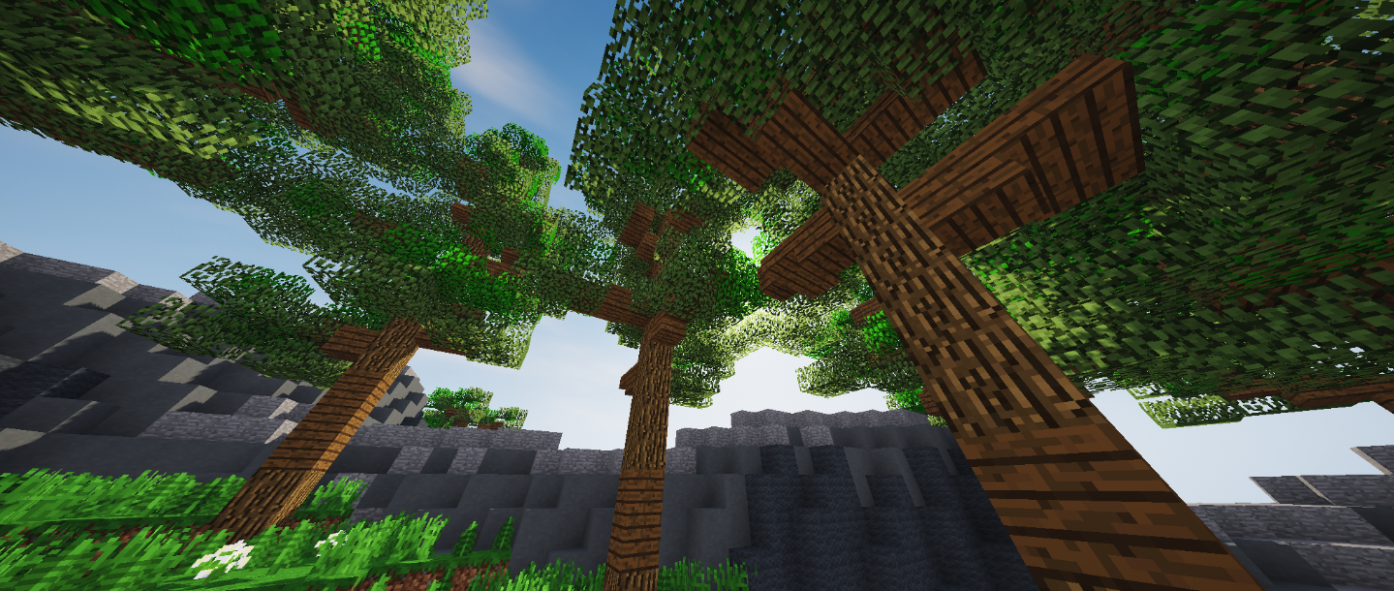 McMMO adds a skill system that increases experience the more a tool or weapon is used, or the more times an action is performed. The skills are divided into Gathering, Combat and Miscellaneous. As you gain experience with a skill, you earn bonuses such as double drops, rare drops, or ability enhancement.
McMMO is used on Skyblock and Islands.
Your power level can be calculated by totalling the levels of all your skills. The power level itself has no true effect on game play. It is the skill levels that make up the total power level that affect your game experience.
By doing /mcstats, you can check your individual skill levels and your overall Power Level.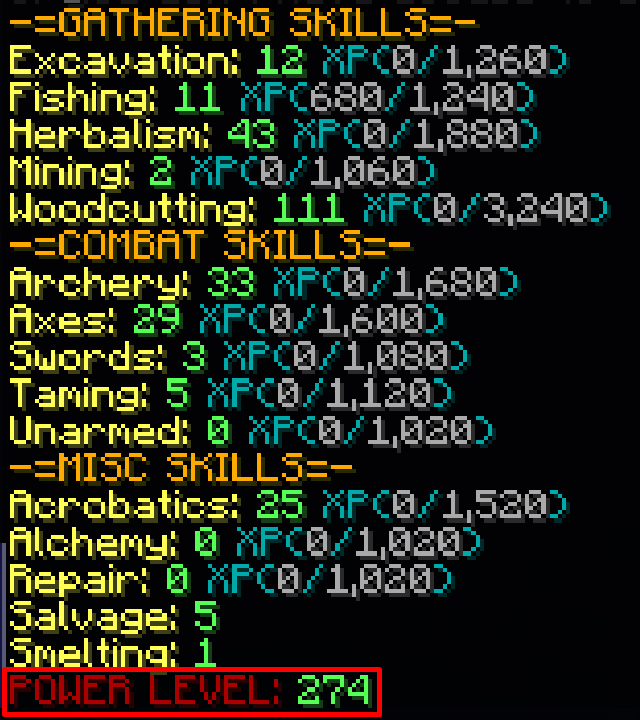 Each skill has a level cap. After that point, there is no further mcMMO benefit to levelling up. The caps are the same across Islands and Skyblock and are shown below.
| Skill | Islands Cap | Skyblock Cap |
| --- | --- | --- |
| Archery | 1,000 | 150 |
| Axes | 250 | 250 |
| Swords | 350 | 350 |
| All other Skills | 5,000 | 5,000 |
¶ McMMO Commands
¶ McMMO Skills Commands
/mcstats - Shows all of your skill levels and your overall Power Level
/mcrank - shows your ranking for each skill
/mctop <skill> Shows leaderboards for a specific skill
/(skill name) - Shows info and your stats for a specific skill
/(skill name) ? - Shows general info on a specific skill
/mcability - Toggles your mcMMO abilities on and off
/redeem - This allows you to redeem any mcMMO credits you may have
Examples of Command Output


Example of /mcstats


Example of /mcrank


Example of /mctop swords


Example of /archery


¶ McMMO Party Commands
McMMO includes a party system that allows you share XP with your friends. Create a party to level up faster and unlock useful benefits!
Below are the mcMMO party commands:
/party create create a mcMMO party
/party invite - invite player
/party chat - chat only with your mcMMO party
/party quit - leave your party
/party itemshare - toggle on and off sharing items
/party expshare - toggle on and off sharing XP
With the Axes skill you can use your axe for much more than just deforesting! You can hack and chop away at mobs and players to gain XP, hitting mobs with the effect of knockback and inflicting DEADLY criticals on mobs and players. Your axe also becomes a hand-held wood chipper, breaking down the enemy's armor with ease as your level increases.
To gain XP in this skill you need to hit other mobs or players with an Axe.
Effects:

Skull Splitter
While holding an Axe in your hand, you can right-click a block, making your active ability ready to be used. The ability will then get activated by hitting Mobs/Players. Skull Splitter allows you to do an "Area of Effect" hit, also known as "AoE", damaging everyone within a half blocks radius from your target, dealing half the damage you are dealing to the target. This ability works for a limited amount of time starting out at 2 seconds, increasing by 1 second every 50 levels.

Critical Strikes
Critical Strikes doubles the amount of damage you deal with your axe. This is great when eliminating high defense targets. The ability starts to max out at 50%.

Axe Mastery
Axe Mastery inflicts more damage depending on your axe level. Axe mastery increases damage done from axes by 0.02 per level, exceeding at +4 bonus damage at level 200.

Armor Impact
Armor Impact increases the amount of damage an axe does to any armor. This perk starts with an armor damage bonus, increasing by 0.02% per level in axes.

Greater Impact
Greater Impact is a passive skill that adds 2 extra damage (1 heart) when no armour is being used while battling against mobs or players. Greater Impact also adds Knockback effect similar as "Knockback II" on a sword and makes an explosive sound when activated. Greater Impact has a 25% chance of being triggered each hit.
NOTE: Axes are capped at Level 250 on Islands and Skyblock
This skill awards combat bonuses to anyone fighting with a sword.
XP is gained based on the amount of damage dealt to mobs or other players when wielding a sword.
Effects:

Counter Attack
Counter Attack takes part of the damage dealt to you and returns half of it to the attacking player or crowd. The only exception to this will be having half a heart left. The chance of being able to Counter Attack depends on your swords level and increases the level up to 31%.

Serrated Strikes
You will be able to activate this ability by right clicking while holding your sword, allowing the attacking player to generate a bleed effect, the time for bleeding is based on the "Swords" level of the user.

Bleed
Causes enemies to take damage every 2 seconds. If you apply bleed to a mob, the mob will bleed until the effect wears off or dies, whichever comes first will happen. The duration of the bleed is increased by your "Swords" skill.
NOTE: Swords are capped at level 350 on Islands & Skyblock
Mining consists of mining stone and ores. It provides bonuses to the amount of materials dropped while mining.
To gain XP in this skill, you must mine with a pickaxe in hand. Only certain blocks award XP.
Compatible Materials

Stone
Coal Ore
Iron Ore
Gold Ore
Diamond Ore
Redstone Ore
Lapis Ore
Obsidian
Mossy Cobblestone
Ender Stone
Glowstone
Netherrack

Effects:

Speed Breaker
(Locked until level 50)
You will activate Speed Breaker by right-clicking while holding a pickaxe in your hand, it will temporarily add 5 Efficiency levels to the held pickaxe, triple the double drop rate, and replace normal-rate double drops with triple drops.

Double Drops
Double drops is a passive skill that allows the player to gain two items instead of the usual one when mining any naturally generated block. The odds of this happening increase by 0.1% per level to a maximum of 100% at level 1000. It does not stack with the Fortune enchantment, but does work with Silk Touch.

Blast Mining
(Locked until level 125 Mining)
Instead of using a pickaxe to break blocks, Blast Mining utilizes TNT to destroy and mine blocks. It is activated by using a flint & steel (shift and right-click the air between yourself and the TNT). With Blast Mining, the range at which the TNT ignites is extended. Higher Mining levels will yield more ores. By default, TNT drops 30% of what is blown up, and is increased further with each level.

Bigger Bombs
(Locked until level 375 Mining)
The Bigger Bombs ability increases the explosive range of TNT ignited with Blast Mining.
At level 375, it adds 2 blocks to the radius of the explosion.
At level 625, this bonus is increased to 3 blocks.
And at level 875, the radius gains its maximum bonus of 4 blocks.

Demolitions Expertise
(Locked until level 500 Mining)
Demolitions expertise is a passive ability that reduces the damage done by TNT with Blast Mining by 25%. TNT ignited through standard means still causes harm, and only when ignited through Blast Mining is the damage invalidated.
At level 750, the damage is decreased by 50%.
At level 1000, damage reduction is 100%.
Excavation is the act of digging up dirt to find treasures. By excavating the land you will find treasures. The more you do this the more treasures you can find.
To gain XP in this skill you must dig with a shovel in hand.
Compatible Materials

Grass
Dirt
Sand
Clay
Gravel
Mycelium
Soul Sand
Snow

Effects:

Giga Drill Breaker
Giga Drill Breaker is an ability with a cooldown tied to Excavation skill. It triples your chance of finding treasures and enables instant break on Excavation materials. To activate Giga Drill Breaker hold a shovel in your hand and right click to ready your tool. Once activated, you have around 4 seconds to make contact with 'Excavation' compatible materials. Often when you are past level 350, you'll get at least 1 diamond from a single Giga Drill Breaker, allowing you to repair the shovel whenever durability starts to drop.

Treasure Hunter
Each time you dig a block, there is a chance to obtain items you would not normally get from digging.
Acrobatics is the art of moving gracefully in mcMMO. It provides combat bonuses and environment damage bonuses.
To gain XP in this skill you need to perform a dodge in combat or survive falls from heights that damage you.
Effects:

Roll
Rolling is a passive skill which allows the player to reduce fall damage. Every level, the chance for a successful roll increases by 0.1%, with a maximum chance of 100% at level 1000. As rolling is a passive skill, it will be activated simply by taking fall damage. When activated, it can neutralize up to 7 damage points, or 3.5 hearts.

Graceful Roll
Graceful Roll is an active skill; it is activated by sneaking (Shift key by default) while falling. It is only effective if the sneaking is started 20 blocks or fewer before impact. It can neutralize up to 14 damage points, or 7 hearts.

Dodge
Dodging is a passive skill that halves combat damage taken; this includes Creeper explosions, Skeleton arrows, etc. Its max chance is 20%, at level 800; each level its chance increased by 0.025%.
Herbalism is about collecting herbs and plants.
Collect plants and herbs to gain XP
Compatible Materials

Wheat
Potatoes
Carrots
Melons
Pumpkins
Sugar Cane
Cocoa Beans
Flowers
Cacti
Mushrooms
Nether Warts
Lily Pads
Vines

Effects:

Green Terra
Activate Green Terra by right clicking while holding a hoe in your hand. It gives a chance to get 3x drops from harvesting plants and consumes 1 wheat seed to convert into one of the following blocks:
⚬ Cobblestone into Mossy Cobblestone
⚬ Stone Brick into Mossy Stone Brick
⚬ Dirt into Grass

Green Thumb
When harvesting a fully-grown plant, there is a chance for the player to instantly replant the crop. The growth stage of the plant upon replanting is based on Herbalism level.
Replanting will use one of either wheat seeds, carrots, or potatoes, depending on what was harvested. An additional crop of wheat, carrot, potato, or nether wart may also drop.

Farmer's Diet
This passive skill increases the amount of hunger that grown food will restore as the player's Herbalism level increases.

| Herbalism Level | Rank | Bonus Hunger Restoration |
| --- | --- | --- |
| 0 - 199 | 0 | 0 |
| 200 - 399 | I | 1 |
| 400 - 599 | II | 2 |
| 600 - 799 | III | 3 |
| 800 - 999 | IV | 4 |
| 1000+ | V | 5 |




Hylian's Luck
Hylian Luck gives a small chance to obtain special items when certain blocks are broken with a sword. The chance for a drop goes up by 0.01% every level. At Level 1000, the chances are 10%.

Currently, the blocks that are affected by this are:
⚬ Grass
⚬ Saplings
⚬ Dead Bushes
⚬ Flowers

Shroom Thumb
Using a mushroom on a block of dirt, while both a red and brown mushroom are in the player's inventory, will trigger "Shroom Thumb". If successful, it will turn the block of dirt into a block of mycelium. Either way, one of each mushroom will be consumed. The chances of success increases with Herbalism level.

Double Drops
This skill doubles the drops obtained from crops. The chance is increased by 0.1% each Level. At Level 1000, the chances are 100%.
With the Fishing skill, Fishing is exciting again! Find hidden treasures, and shake items off mobs.
To gain XP you must catch fish.
Effects:

Treasure Hunter
Treasure Hunting is an ability that increases the chance to give useful items when fishing.

Magic Hunter
Magic Hunter is an ability that allows armor and tools obtained from Treasure Hunter to be enchanted. Magic Hunter is able to catch tools and armor with enchantment combinations that are unavailable by normal means, such as Silk Touch and Fortune together or Smite and Bane of Arthropods together.

Ice Fishing
This ability allows you to fish in icy biomes. Cast your fishing rod on an ice block and a water hole should appear.

Master Angler
Improves chance of getting a bite while fishing. This passive skill increases the bite chance while fishing. When you've unlocked this ability, fishing while in a boat or when an ocean biome doubles the bite chance.

Shake
Shake is an ability that can pull drops and held items from mobs by hooking them with a fishing rod. It can be used repeatedly for a large number of items depending on the remaining health of the mob. However, this reduces the durability of the fishing rod drastically. The fishing rod, when used in this method, will always deal damage equivalent to 25% of the maximum health of the mob.

FIsherman's Diet
Improves hunger restored from fished food. This ability increases the number of hunger units regenerated by consuming fish. It is measured in ranks, increasing once every 200 levels, and capping at level 1000.
NOTE: Unarmed is disabled on Islands and Skyblock
Unarmed will give players various combat bonuses when using your fists as a weapon.
XP is gained based on the amount of damage dealt to mobs or other players when unarmed.
Effects:

Iron Arm
Iron Arm adds extra damage to your normal hits using fist. To start with, McMMO increases the damage done by 3. This scales by 1 extra attack damage every 50 levels, capping at level 250 with 8 damage increment.

Arrow Deflect
Increasing your Unarmed level increases your chance of deflecting an incoming arrow. Deflecting enemy arrows has a chance to hit the person who fired the arrow. Anyways, the chance is much lower than deflecting an arrow.
Alchemy is about brewing potions. It provides a speed increase in the potion brew time, as well as the addition of new (previously) unobtainable potions.
To gain XP in this skill you need to brew potions.
Effects:

Catalysis Brewing ingredients into potions takes less time the higher your Alchemy skill, beyond level 100.

Concoctions
Concoctions allows the brewing of more potions with custom ingredients.

| | Potion Name | Potion Effect | Ingredient | Unlock Level | Type | Information |
| --- | --- | --- | --- | --- | --- | --- |
| | Potion of Water Breathing | Water Breathing | Lilypad | 1 | Buff | Allows breathing underwater |
| | Potion of Haste | Haste | Carrot | 250 | Buff | Increases mining speed |
| | Potion of Dullness | Mining Fatigue | Slimeball | 250 | Debuff | Decreases mining speed |
| | Potion of Absorption | Absorption | Nether Quartz | 375 | Buff | Applies 2 additional hearts (per level) that disappear upon damage |
| | Potion of Leaping | Jump Boost | Red Mushroom | 375 | Buff | Increases jump height |
| | Potion of Health Boost | Health Boost | Apple | 500 | Buff | Applies 2 refillable hearts per level |
| | Potion of Hunger | Hunger | Rotten Flesh | 500 | Debuff | Depletes the hunger bar at a faster rate |
| | Potion of Nausea | Nausea | Brown Mushroom | 625 | Debuff | Makes the user's vision swirl (like entering a Nether portal) |
| | Potion of Blindness | Blindness | Ink Sac | 625 | Debuff | Decreases the user's range of vision |
| | Potion of Saturation | Saturation | Fern | 750 | Buff | Causes the user's hunger bar to increase without the consumption of food |
| | Potion of Decay | Wither | Poisonous Potato | 875 | Debuff | Damage over time, much like burning or poison |
| | Potion of Resistance | Resistance | Golden Apple (regular) | 1000 | Buff | Applies a 20% damage reduction per level |
Archery is about shooting with your bow and arrow, providing various combat bonuses.
To gain XP in this skill you need to shoot mobs or other players.
Effects:

Skill Shot This passive ability increases the amount of damage you can deal with bow and arrows. Gains +10% extra damage every 50 levels, with a maximum of +100%. Once skill reaches level 1000, you will inflict triple damage.

Daze
Daze has a chance of giving your opponent nausea and deals an extra 4 heart damage. Also, it forces the player to look upwards, giving a big advantage in PvP. Chance of dazing an opponent increases by 0.05% for each level of Archery. Daze caps at level 1000 with 50%.

Arrow Retrieval
This passive ability allows you to pick up arrows that you have fired at mobs and enemies in PvP. The chance for this stat increases by 0.1% with each level of Archery, having a cap at 100% at level 1000.
NOTE: Archery is capped at Level 1,000 on Islands and Level 150 on Skyblock.
Repair allows you to use an iron block to repair armor and tools.
To gain XP you must repair tools or armor using the mcMMO Anvil. This is an iron block by default and should not be confused with the Vanilla Minecraft Anvil.
Effects:

Repair
Repair Tools and Armor. Place down a mcMMO Anvil and right-click to repair the item you're currently holding. This consumes 1 item on every use.

Repair Mastery
Increased repair amount. Repair Mastery increases the repair amount. The extra amount repaired is influenced by your Repair skill level.

Super Repair
Super Repair is a passive ability. When repairing an item, it grants players a chance to repair an item with double effectiveness.

Diamond Repair
Repair Diamond Tools & Armor. Requires Repair Skill 50+.

Arcane Forging
Arcane Forging is used to keep enchantments on items after repairing them, It starts at level 1 of the "Repair" skill. At a 10% success chance, this is the level at which Arcane Forging starts.
Each level afterwards adds a small % increase. such as at level 125 you gain a 10%, level 250 a 20%, at level 750 you get a 50% cap. Along with this, there is a chance for a downgrade on the enchantment. For example, a Power II Bow could potentially become a Power I Bow.
Taming will give players various combat bonuses when using tamed wolves.
To gain XP in this skill, you need to tame wolves/ocelots or get into combat with your wolves.
Effects:

Beast Lore
This skill allows you to inspect your wolves, horses or ocelots by left-clicking them with a bone. Note that left-clicking with anything else will damage your wolf, horse or ocelot.

Gore
Whenever tamed wolves attack a target, there is a chance that they will inflict a critical strike that applies bleed. The chance goes up 1% per ten levels to get a Gore, to a maximum of 100% at level 1000. This passive is extraordinary for PVP as it will deal 2 hearts of damage to your target. This means that if you're attacking a protection 4 diamond armor player, 5 lucky hits will kill him. As your skill rises lucky hits will slowly become regular hits.

Sharpened Claws
Sharpened Claws makes your wolves deal an extra four damage per hit (2 hearts), dealing a total of 10 damage (5 hearts).

Thick Fur
Thick Fur is a passive ability and will make your wolves take half damage when hurt and make them fire resistant.

Shock Proof
Shock Proof causes your wolves to take 1/6 damage from explosions.

Environmentally Aware
The skill "Environmentally Aware" comes after your taming reaches past level 100. This skill grants your summoned wolves the ability of teleporting to you when nearing cactus or lava. This also allows your wolf to be immune to fall damage.

Holy Hound
Holy Hound causes your wolves to be healed with poison and magic.

Call of the Wild
Summons an animal to your side. To use it, hold 10 bones for a wolf, 10 raw fish for an ocelot or 10 apples for a horse and then left click into the air while sneaking. Mobs summoned with "Call of the Wild" will be named in accordance to your in-game name. For example, if your name in minecraft was "Steve" then your wolf will be named "Steve's wolf." Summoning animals does not grant EXP in the taming skill, as opposed to taming the animals yourself. Call of the Wild will not work if you or anyone else has an existing wolf within 40 blocks of you.
Woodcutting is all about chopping down trees.
XP is gained whenever you break log blocks.
Effects:

Tree Feller
Tree Feller is an active skill that allows you to chop down entire trees by only breaking one block. To use Tree Feller, right-click while holding an axe to ready your tool. With the tool ready, chop a block of wood or giant mushroom to activate the skill. Tree Feller only breaks blocks at the same height and higher than the block that is chopped, so cutting the middle of a tree will leave a stump. At level 0, tree feller is unavailable, it unlocks at level 50, and it increases by 1 second every 50 levels. This gives it a max duration of 22 seconds at level 1000. The ability has a cooldown between uses that lasts 240 seconds (4 minutes). Tree feller does not break trees larger than 500 blocks by default and at lower levels, it breaks much less.

Leaf Blower
(Locked until level 100 Woodcutting)
Leaf Blower is an ability that will cause leaf blocks to break instantly when hit with an axe. When destroyed using Leaf Blower, a leaf block has a 10% chance of dropping its respective sapling. The leaves do durability damage to the axe and make a popping sound when broken.

Double Drops
Double the normal loot. Double drops is a passive skill that allows you to gain two items instead of one when chopping any log or giant mushroom block that was either generated by the world or grown. The chance to get double drops increases by 0.1% per level to a maximum of 100% at level 1000.