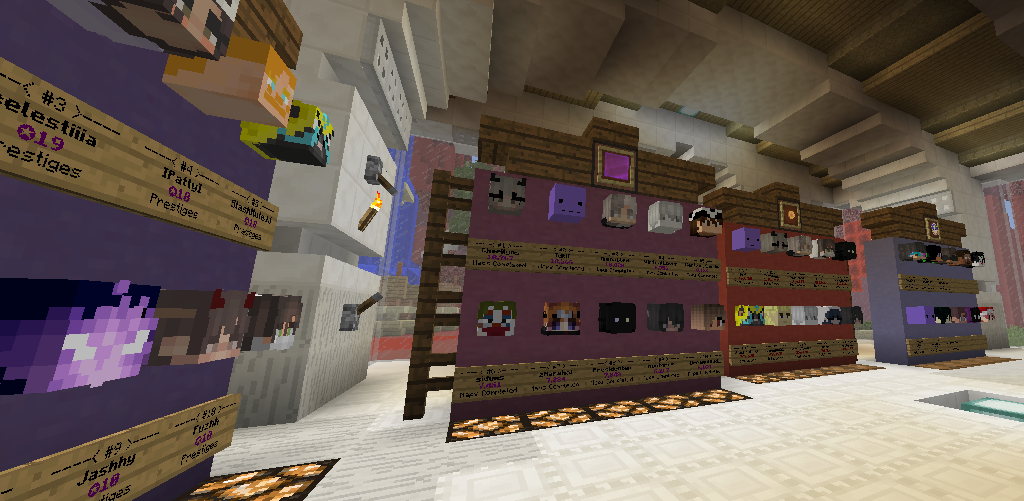 You can access the in-game leaderboards at /warp lead. They are located behind where you spawn with /spawn. Player stats are also available on our Forums


The leaderboards at /warp lead (which is straight ahead from /spawn) show the top 10 players in each category. There are also 2 adventure map leaderboards at /warp adventure!


Prestiges
Total Maps Completed
Total Score
World Records
Monthly Mana
Monthly Map Completions
Monthly Score
All time completions
Monthly completions
You may check your personal statistics by doing /stats, looking at your sidebar or looking on the forums.
If you aren't able to get in-game, you can still keep track of the leaderboards on the Forums. These leaderboards will allow you to see the stats for all players. The available leaderboards on the Forums are Most Prestiges, Total Score, Total Mana, Playtime and Adventure Map Completions.
You can scroll through the pages by clicking on the page numbers or the arrow at the bottom of the page.
Any activities that give unfair gains on the leaderboards may result in a Leaderboard Ban. Leaderboard bans apply to all Parkour leaderboards and disqualify you from any monthly or seasonal recognition or payments. This includes, but is not limited to:
Cheating, e.g. Hacking, Bug Abuse, Scamming, etc.
Abuse of Exploits (unintended shortcuts) on courses.
NOTE: Warnings are not required prior to giving a leaderboard ban. Warnings are given at staff discretion. If you feel you were falsely banned from the Leaderboards please file a ban appeal on the Forums.