Each time you complete a course you receive Mana. One way to use Mana on Parkour is to rank up. There are currently 15 ranks including the default Noob rank to work your way through.
If you do the command /rankup it will take you to this menu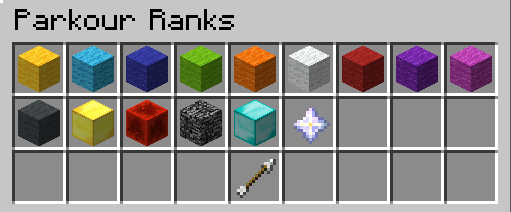 Here, you will have the option to purchase ingame ranks for Mana.
NOTE: You must purchase these ranks in order. If you have the Noob rank, and want to rank up to Amateur (3rd rank) you must rankup to Rookie first. .
The prices for these ranks can be found by hovering over the ranks in the /rankup menu, or by referring to the chart below.


NOTE: When you complete a Regular map, you will not only receive Mana, but you will receive Score as well. Score is not relevant during your Rookie through Ninja rankups. Once you are at the Ninja rank, you will need 5,000 score to rankup to God, and each rank moving forward will require Score, until you get to Champion. After your Champion rankup, you will no longer need score for any further rankups after prestiging.
When ranking up, most ranks give a higher Rank and new Title. However, the below give the additional perks shown below.


Once you reach the final rank (Champion) you have the option to Prestige. This resets your rank back to Noob and puts a star in front of your name, the number on your star goes up by one every time you prestige.

Prestiging will remove your access to Champion maps, as well as Expert and Insane level maps. You will need to rankup to the required ranks once again to gain access.
Prestiging does not cost Mana and will not remove your Score, it just resets your rank back to Noob.
You may prestige an infinite amount of times, once you get yourself back up to the Champion rank each time.