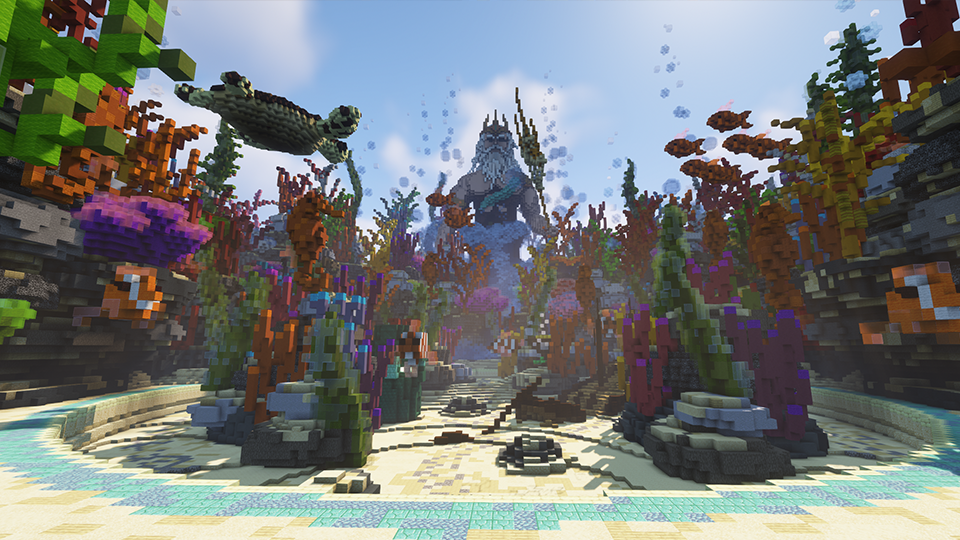 /warp pvp
¶ Spawning onto Islands for the first time
When you spawn on Islands, you'll be taken to the main spawn area (/spawn). You'll have $50 (/bal) to your name as well as one achievement completed (/a). The main spawn area is where you can find things such as crates, the leaderboards, the pvp zone, etc.


¶ Starting an Island
By running the command /is, a brand new island will be generated for you. From there, you can do /is changename. Be careful as you can only change your island name three times!



If you would like to play alongside other people, you can easily invite them to your island (or have them invite you) by running the command /is invite [name]. That person will have the option to accept (/is accept) or ignore the invite.
If the invited person accepts the invite request, they'll be fully a part of the island with permanent access. This means that they will be on your /is team, have access to placing blocks, removing items from chests, and more!



¶ Warping to your Island
If you've warped to an island that is not your own and you've forgotten the command to go to your island, you can proceed to type /is go. This will allow you to teleport to your island home. If you wish to change where your island home is, feel free to do /is sethome.
During your time on Islands, you may decide to open your island to the public. That means the public can view your progress at any point in time unless you decide to close your island. You can allow players to teleport to your island by typing /is setwarp <name> <cost> <icon>. The icon is used to represent your warp; for example, you can use a "diamond" as your icon! Typing /is lock will close OR open your island which either prevents players from teleporting to your island or allowing them to freely teleport to your island. You can view all island warps with /is warps

Daily Rewards are a way that you can claim rewards. By syncing your discord and playing on Islands for at least an hour every day, you'll be able to claim /cashcow. You'll be able to view the rewards and the requirements for a specific day.
NOTE: The Cash Cow will reset if you miss a day.
NOTE: You are able to toggle the featherboard with /fb on and /fb off
Money - This will keep track of your current money balance (/bal).
Souls - This will show how many Kilton souls you have obtained.
Cubits - This will show you how many cubits you have across the server (/cubits bal). You can spend them on the store or ingame!
Mana - This will keep track of your current mana balance (/p me or /mana bal).
Skills - Throughout the island season, you will gain levels from doing daily tasks such as woodcutting and mining. Check this out with /mcmmo! If you have any McMMo credits, you can use /redeem to use them and gain extra levels.
Profile - This displays the current island that you will teleport to with /is go. You are able to switch your profile to a different island in your Island Settings.
Level - When you start your Skyblock experiences, this will start at 0. By upgrading your island level (/is level), you gain levels and unlock milestones.
Ranks are challenges that you can complete in exchange for perks and items. By ranking up, the perks and items that you receive are more rewarding. Typing /rankup will bring up the GUI to upgrade your rank.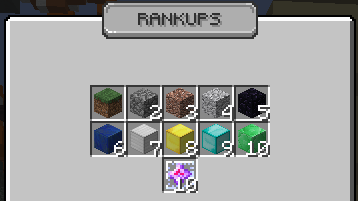 Islands Ranks Menu
List of Ranks

NOTE: All objectives get progressively harder as you prestige. These are the initial requirements for each rank. This is an inside scoop into what you'll be doing for each rank!




Requirements: Harvest 500 Crops



Requirements: Kill 300 Mobs



Requirements: Mine 250 Ores



Requirements: Reach 500 Skill Level



Requirements: Complete 10 Quests



Requirements: Slay 100 Drowned Mobs



Requirements: Catch 30 Mana Pond Rewards



Requirements: Play for 10 Hours



Requirements: Slay 1 Ancient Guardian Boss



Requirements: Pay $10,000,000
After you've ranked up to rank 10, you will be able to prestige. You will get rewards every time you prestige; however, each prestige will progressively get harder, just like rank objectives. Prestige by clicking on the end crystal on /rankup. You must be the VIP donator rank to prestige.
Warning: Prestiging will set your /ranks back to 0