The hub is where most new players spawn. The hub is also where players are sent during each server's routine reboots. These reboots typically take a minute or two and you can join the server again soon.
Straight ahead are NPCs (non-playing characters) you can click to join the game mode of your choice. You may also enter the Game Portal to open a navigation GUI.
Hovering over any icon will give basic information about each server and allow you to join. Each game mode is described within this wiki.



Gamemode Portal GUI
Server
Description
Summary
Direct Connect
Skyblock Realms
Spawn on a floating island with limited resources. Expand and grow.
Survival, Economy, Challenge
aztec.manacube.net or oasis.manacube.net
Olympus Realms
Olympus Prison is all about mining! Make your way through all the levels to reach ascension!
Prison, Economy, Progression
aether.manacue.net or atlas.manacube.net
Parkourse
Maneuver through various obstacles without falling or failing. Over 1000+ courses to master!
Fun, Casual, Competitive
parkour.manacube.net or parkourse.com
Survival
Peaceful Survival, with a ton of features to keep you busy.
Survival, Economy, Peaceful
survival.manacube.net
Islands
You are an outlaw in a strange world. Survive on your island at sea and discover the secrets of Pirate Cove.
Survival, Economy
islands.manacube.net
Creative
Grab a plot and build with your friends!
Creative, Fun
creative.manacube.net
Factions
Defend your base from raiders
Raiding, Economy, PvP
factions.manacube.net
KitPvP
Kill other players to earn cash and XP. Upgrade your gear, discover new secrets, create a squad, complete challenges and achievements and much more.
PvP, Economy
pvp.manacube.net
Hubs
Hubs 1 through 5
Hub, Discoveries
play.manacube.net
Event
Official Events Server
Races, Tourneys, Competition
Old Creative
Legacy Creative Server
Archive
The ManaCube hub is more than just a gateway to the rest of the network. The Hub has over 3.7 million blocks! There are more than 40 unique locations, 66+ houses with full interior, easter eggs/secrets, and even a parkour course. Hidden in these builds are 36 discoverable locations.
You can keep track of your discoveries with /discover.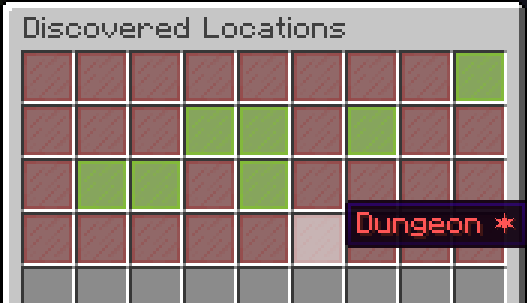 /discover GUI
Each time you discover a new location, you will be notified.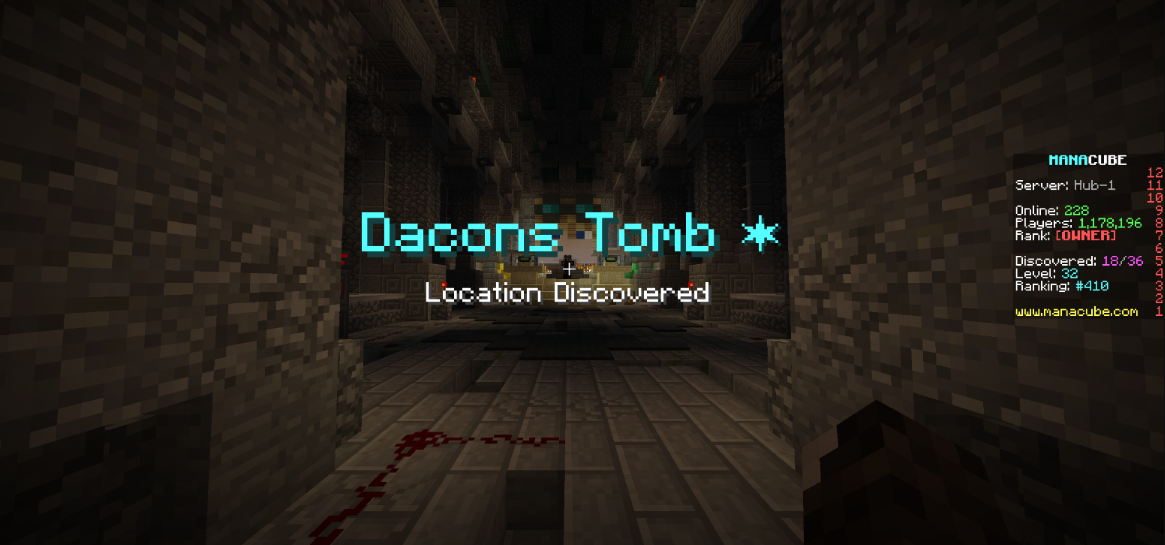 Finding Dacon's Tomb
These locations are spread throughout the hub. They may be in buildings, underground, in the water or even in the air. Some are obvious and others are well-hidden. Only the dedicated will find them all!
Spoiler: List of Locations

Mana Cafe
Seaside Cafe
Pizzeria
Bakery
Clothes Shop
Fish Shop
Pet Shop
Tree House
Barber
Candy Store
Hat Shop
Church
Catacombs
Museum
Bank
Jail
Jail Escape
Dock House
Farm
ManaCube
Viewpoint #1'
Viewpoint #2'
Viewpoint #3'
Arcade
Illuminati Meeting
Dacons Tomb
Secret Restaurant
Bank Heist Tunnel
Club
Tylers Secret
Hidden Treasure
Dungeon
Build Team Room
Hot Tub
Industry Secret