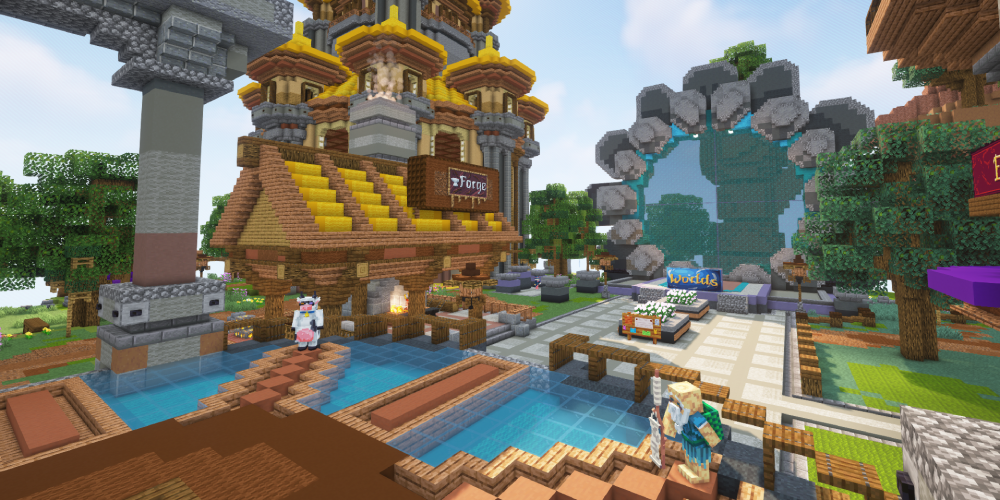 On Survival, you may visit various isles to obtain rewards. To access the isles GUI, type /isles. This will bring up a menu you may interact with to learn more about the various isles, view the enemies, rewards, lore, and teleport to each isle.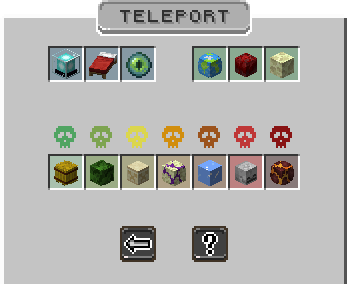 After typing /isles, you will open the GUI above. You may interact with the seven isle buttons. By hovering over each one, you may view its basic information: Difficulty, PvP, rules around keep-inventory, and the amount of resources/kills you have amassed in that isle.
This is what hovering over the Tangleroots leaf might show you: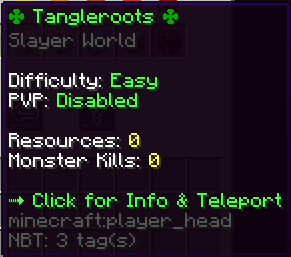 You may also click on each of the icons. This will take you to a new menu specific to that isle, where more information is shown. This will include the mobs, blocks, and resources you can gather from each. It will also show information on the difficulty of the isle. This loot will also be detailed later in the article.
The menu for the Tangleroots isle is shown below: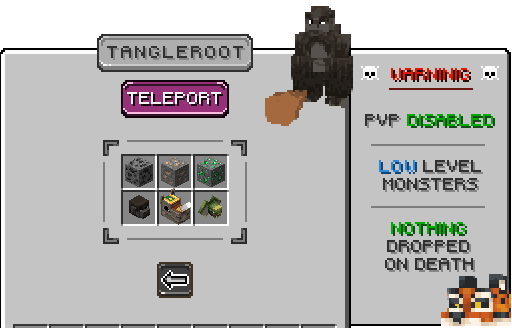 In each isle, there are blocks you can destroy and mobs you can kill to gain rewards. You are only able to destroy certain blocks, which are specified later in the article.
The mob drops are split into 4 rarities: Constant, Common, Uncommon, and Rare. After killing an enemy, you will always get the Constant reward, and you will also get 1 of the 3 other rewards (Common, Uncommon, or Rare). There is an 84.75% chance you will receive a common reward, a 15% chance you will receive an uncommon reward, and a .25% chance you will receive a rare reward.



Wolfhaven is the first of the seven Survival isles. It has the following attributes:
Difficulty: Low-level
Mob Level: Low
PvP: Disabled. On death, all inventory items are kept


| Mob Type | Mob Level | Health | Damage | Constant Drops | Common Drops | Uncommon Drops | Rare Drops |
| --- | --- | --- | --- | --- | --- | --- | --- |
| Mana Slime | 3 | 20 | 3 | 1 Soul, 5 Mana | 1 Slime Block, 1 Sweet Berry | 4 Emeralds | Slime Boots, Mana Leggings |
| Magic Mooshroom | 6 | 40 | 0 | 1 Soul, 5 Mana | 5 Experience Bottles | 1 Magic Flying Cookie, 1 Magic Success Dust | 1 Magic Shroom, Mana Boots |
| Mana Wolf | 13 | 50 | 10 | 1 Soul, 5 Mana | 2 Hay Blocks, 4 Sweetberries | 1 Golden Berry, 1 Small Money Pouch | Mana Helmet, Howl Horn, Bone Axe |
| Block | Rewards | Regen Time |
| --- | --- | --- |
| Hay Blocks | 2 Wheat, 1 Mana | 30 secs |
| Gravel | $10 | 20 secs |
| Coal Ore | 5 Coal, 2 Mana | 90 secs |
| Iron Ore | 5 Iron, 3 Mana | 150 secs |
| Emerald Ore | 1 Emerald, 5 Mana | 600 secs |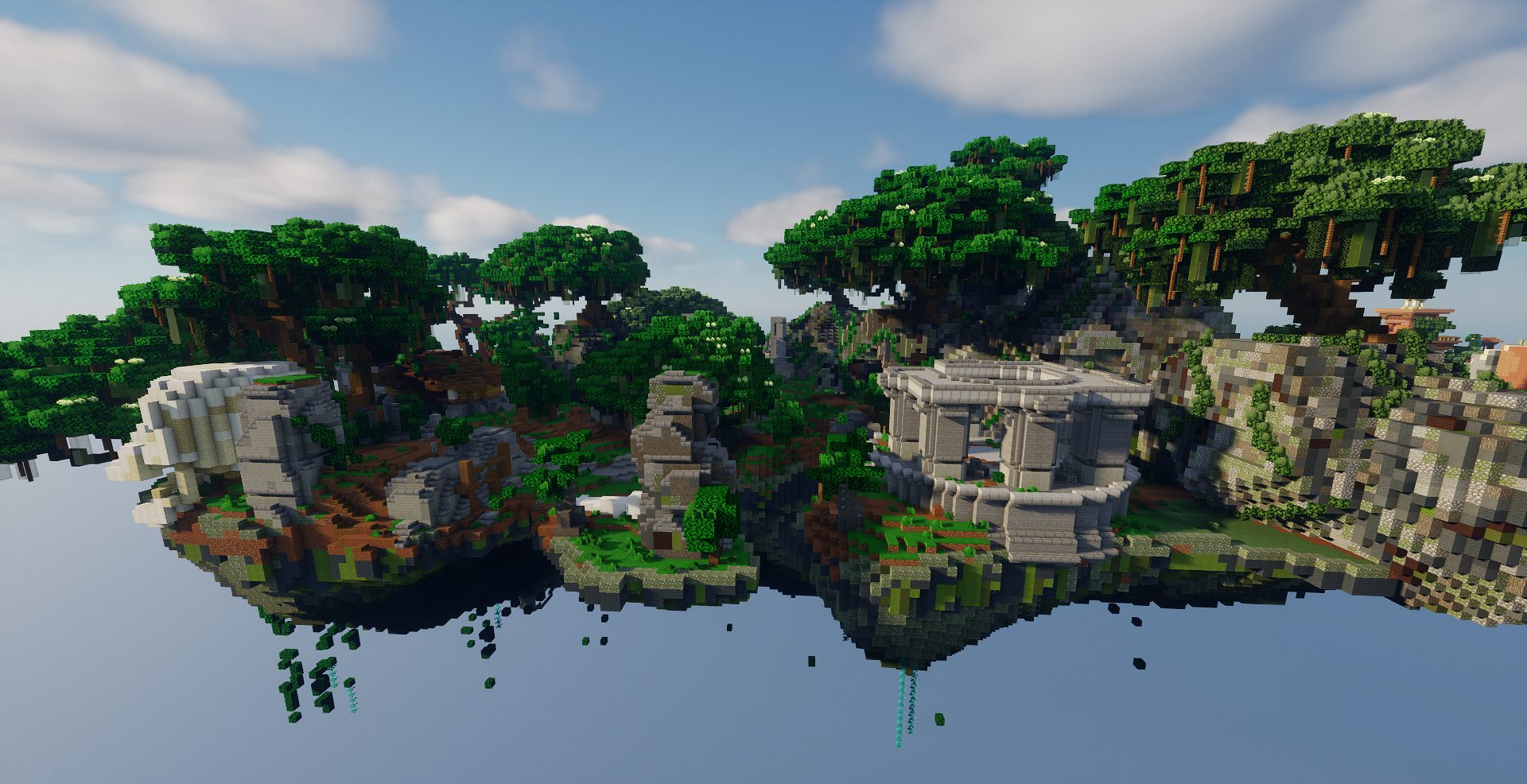 Tangleroots is the second of the seven Survival isles. It has the following attributes:
Difficulty: Low-level
Mob Level: Low
PvP: Disabled. On death, all inventory items are kept


| Mob Type | Mob Level | Health | Damage | Constant Drops | Common Drops | Uncommon Drops | Rare Drops |
| --- | --- | --- | --- | --- | --- | --- | --- |
| Gorilla | 13 | 50 | 10 | 1 Soul, 5 Mana | 16-64 Bamboo, 5 Sweet Berries | Golden Berry | Gorilla Club |
| Armored Rhino | 13 | 140 | 8 | 1 Soul, 5 Mana | 2-5 Emeralds, 2-6 Diamonds, 4-12 Iron Ingots, 2-6 Gold Ingots | Spawner Fragment | Rhino Helmet |
| Tiger | 13 | 45 | 15 | 1 Soul, 5 Mana | 16-64 Sugar Cane | Golden Berry | Tiger Tooth Dagger |
| Block | Rewards | Regen Time |
| --- | --- | --- |
| Coal Ore | 15 Coal, 3 Mana | 90 secs |
| Iron Ore | 15 Iron, 5 Mana | 120 secs |
| Emerald Ore | 3 Emeralds, 10 Mana | 300 secs |
¶ Sandara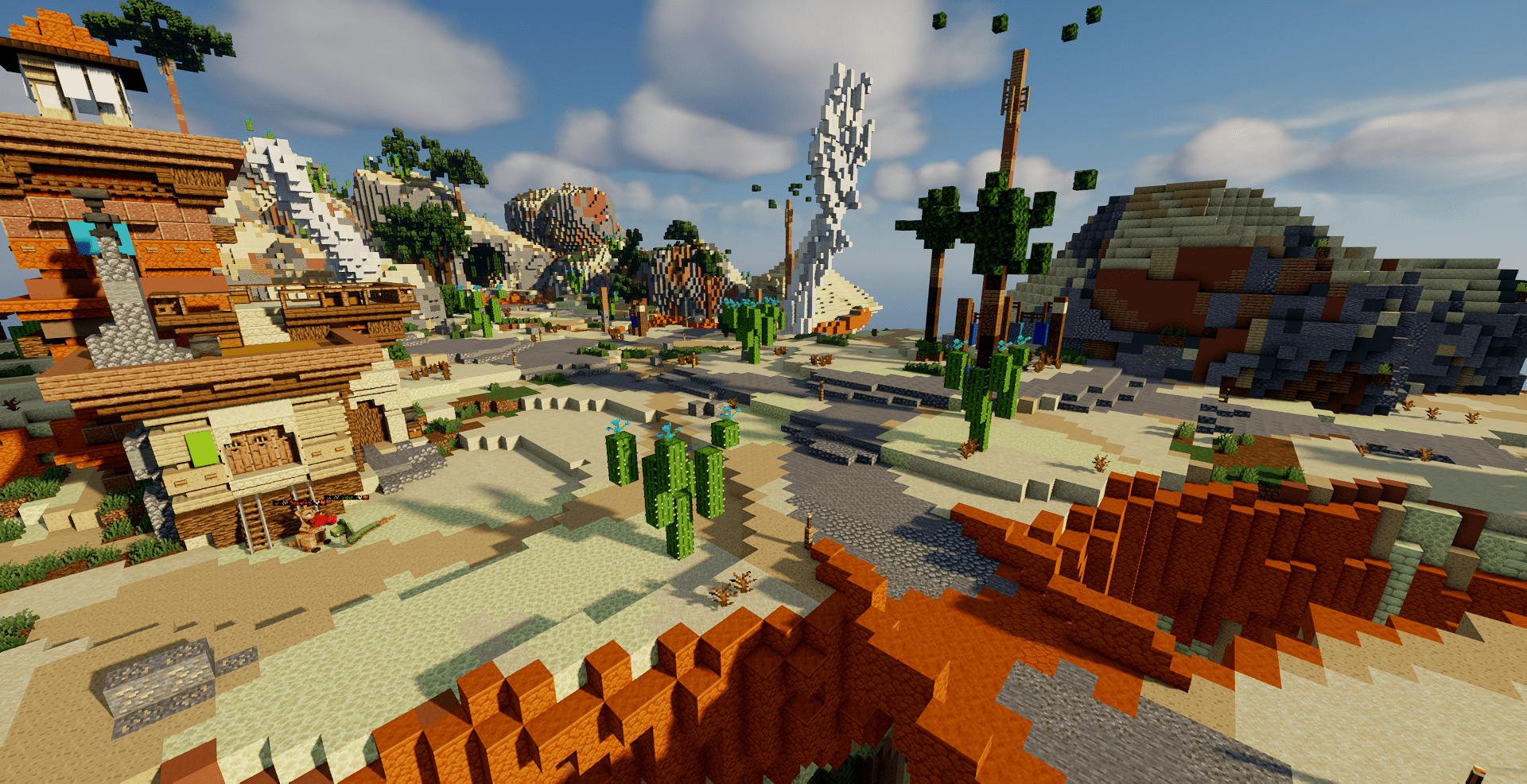 Sandara is the third of the seven Survival isles. It has the following attributes:
Difficulty: Low-level
Mob Level: Medium
PvP: Disabled. On death, all inventory items are kept


¶ Sandara Mobs
| Mob Type | Mob Level | Health | Damage | Constant Drops | Common Drops | Uncommon Drops | Rare Drops |
| --- | --- | --- | --- | --- | --- | --- | --- |
| Viper | 20 | 40 | 10 | 1 Soul, 5 Mana | 8-16 Slime Balls | Black Scroll | Viper Bow |
| Mummy | 20 | 65 | 10 | 1 Soul, 5 Mana | 3-12 Lapis Lazuli | 1-3 Ancient Tokens | Improved Mana Leggings |
| Boxaroo | 20 | 50 | 10 | 1 Soul, 5 Mana | 16-64 Beetroots | Small Money Pouch | Boxing Glove |
¶ Sandara Blocks
| Block | Rewards | Regen Time |
| --- | --- | --- |
| Coal Ore | 20 Coal, 5 Mana | 60 secs |
| Iron Ore | 20 Iron, 7 Mana | 90 secs |
| Emerald Ore | 5 Emerald, 12 Mana | 300 secs |
| Diamond Ore | 7 Diamonds, 15 Mana | 300 secs |

Morend is the fourth of the seven Survival isles. It has the following attributes:
Difficulty: Medium-level
Mob Level: Medium
PvP: Enabled. On death, personal gear & items are kept, but mob loot & resources are dropped


| Mob Type | Mob Level | Health | Damage | Constant Drops | Common Drops | Uncommon Drops | Rare Drops |
| --- | --- | --- | --- | --- | --- | --- | --- |
| Morendman | 28 | 150 | 25 | 1 Soul, 7 Mana | 2-4 Ender Pearls | 1 Origin Eye | Soul Talisman |
| End Crawler | 23 | 45 | 10 | 1 Soul, 5 Mana | 20-40 Sugar | 1 Spawner Fragment | Improved Mana Helmet |
| Mana Wizard | 45 | 125 | 20 | 1 Soul, 10 Mana | 6-12 Diamonds | 1 Small Mana Pouch | Morend Wand |
| Block | Rewards | Regen Time |
| --- | --- | --- |
| Warped Hyphae | 1 Warped Hyphae, 1 Mana | 90 secs |
| Crimson Hyphae | 1 Crimson Hyphae, 1 Mana | 90 secs |
| Purpur | 3 Purpur, 1 Mana | 90 secs |
| Diamond Ore | 1 Diamonds, 15 Mana | 5 mins |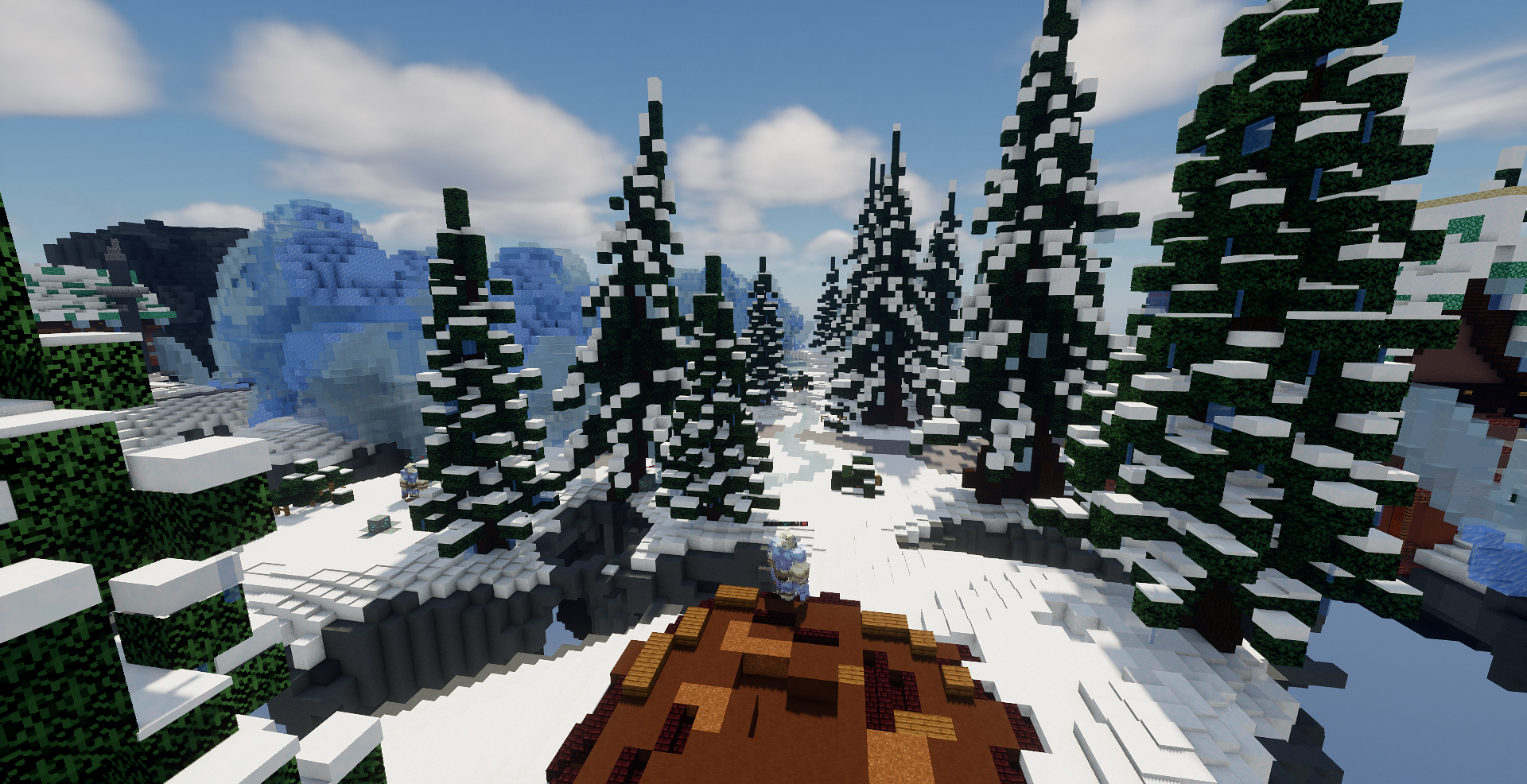 Icehaven is the fifth of the seven Survival isles. It has the following attributes:
Difficulty: Hard
Mob Level: Medium
PvP: Enabled. On death, personal gear & items are kept, but mob loot & resources are dropped


| Mob Type | Mob Level | Health | Damage | Constant Drops | Common Drops | Uncommon Drops | Rare Drops |
| --- | --- | --- | --- | --- | --- | --- | --- |
| Zombie Moose | 27 | 100 | 15 | 1 Soul, 7 Mana | 1-6 Hay Blocks | Returning Eye | Wall Mounted Antlers Furniture, Improved Mana Boots |
| Yeti | 37 | 175 | 25 | 1 Soul, 10 Mana | 1-6 Diamonds | Spawner Fragment | Yeti Mask |
| Krykna | 25 | 70 | 10 | 1 Soul, 10 Mana | 1-3 Diamonds | Magic Success Dust | Spider Boots |
| Block | Rewards | Regen Time |
| --- | --- | --- |
| Emerald Ore | 5 Emerald, 10 Mana | 300 secs |
| Diamond Ore | 3 Diamond, 12 Mana | 5 mins |
| Ancient Debris | 1 Netherite Scrap, 15 Mana | 5 mins |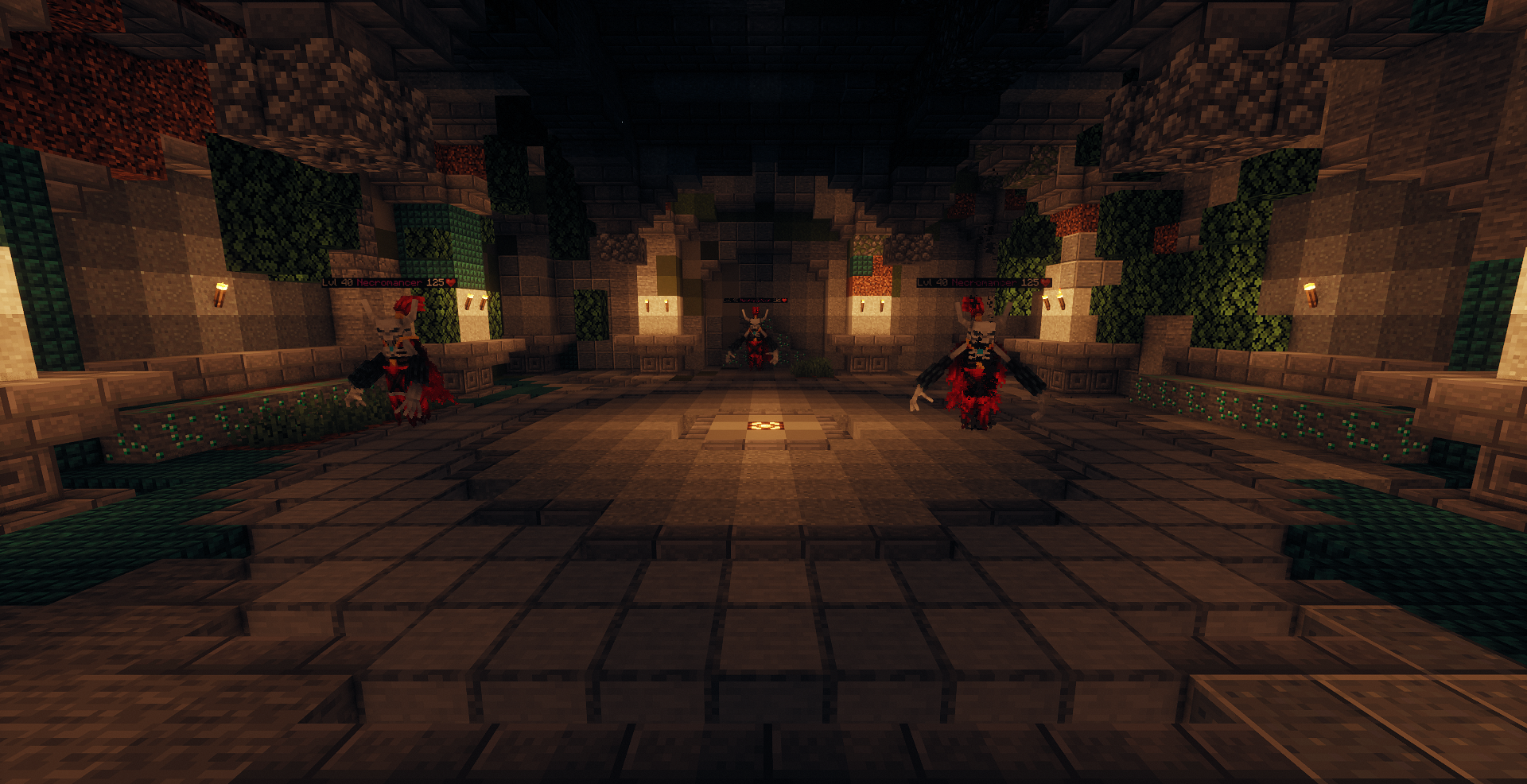 Relicrypts is the sixth of the seven Survival isles. It has the following attributes:
Difficulty: High-level
Mob Level: High
PvP: Enabled. On death, personal gear and items are kept, but mob loot and resources are dropped


| Mob Type | Mob Level | Health | Damage | Constant Drops | Common Drops | Uncommon Drops | Rare Drops |
| --- | --- | --- | --- | --- | --- | --- | --- |
| Scorpion | 30 | 75 | 20 | 1 Soul, 10 Mana | 2-4 Gold Ingots | Spawner Fragment | Scorpion Shears |
| Mutated Mole | 38 | 140 | 20 | 1 Soul, 10 Mana | 5 EXP Bottles, 4-10 Gold Ingots | 5 Emeralds, 5 Diamonds | Mole Shovel |
| Necromancer | 40 | 125 | 20 | 1 Soul, 5 Mana | 1-5 Ender Pearls | Flying Cookie | Necromancer's Hand, Morend Wand |
| Block | Rewards | Regen Time |
| --- | --- | --- |
| Emerald Ore | 1 Emerald, 2 Mana | 5 mins |
¶ Burninglands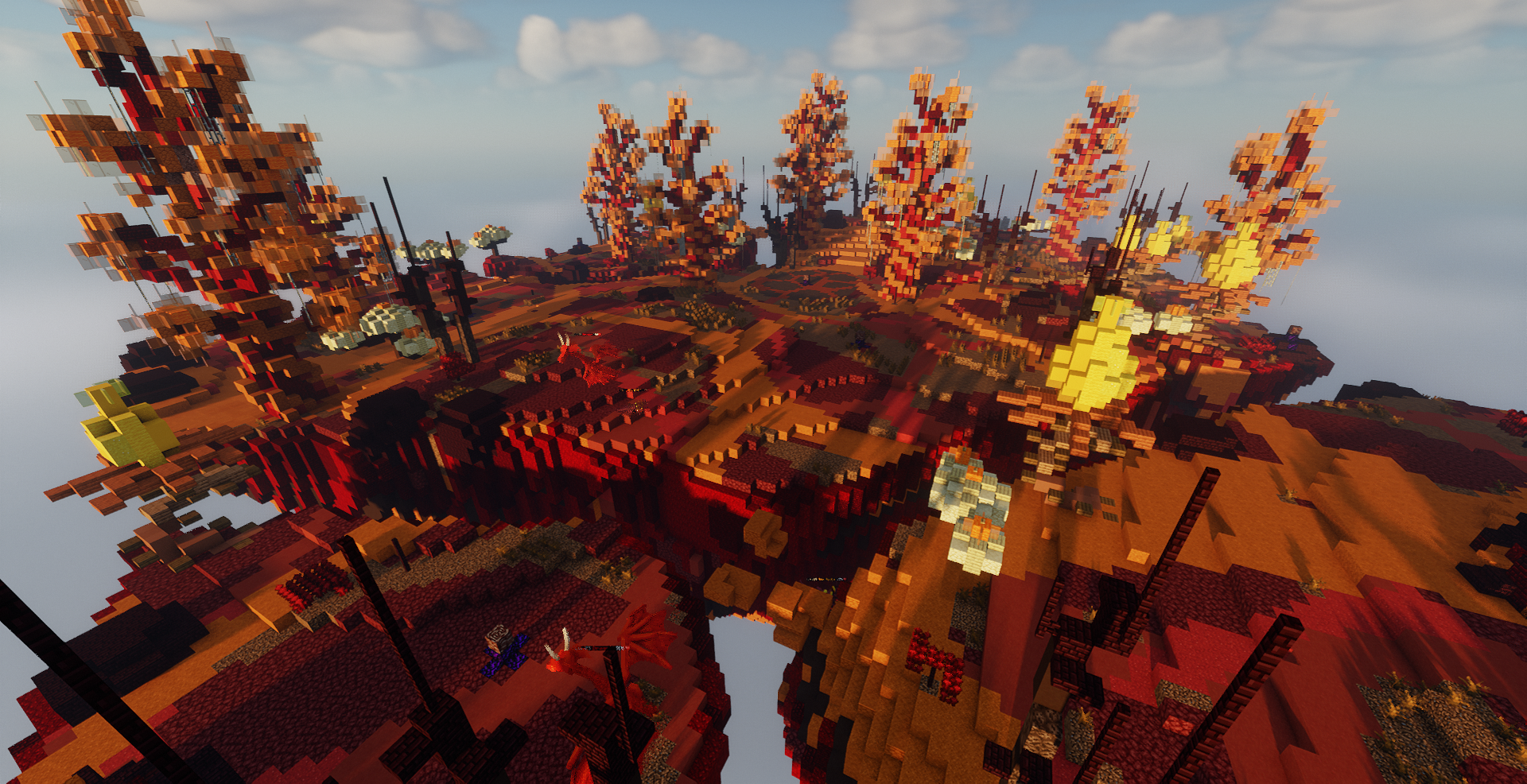 Burninglands is the seventh of the seven Survival isles. It has the following attributes:
Difficulty: High-level
Mob Level: High
PvP: Enabled. On death, all inventory items are dropped


¶ Burninglands Mobs
| Mob Type | Mob Level | Health | Damage | Constant Drops | Common Drops | Uncommon Drops | Rare Drops |
| --- | --- | --- | --- | --- | --- | --- | --- |
| Lava Golem | 70 | 400 | 35 | 1 Soul, 20 Mana | 3-4 Gold Blocks | Netherite Scrap | Inferno Sword |
| Hell Hound | 60 | 175 | 30 | 1 Soul, 10 Mana | 10-20 Gold Ingots | 2 Spawner Fragments | Rage Pickaxe |
¶ Burninglands Blocks
| Block | Rewards | Regen Time |
| --- | --- | --- |
| Netherite Ore | 1 Netherite Scrap, 20 Mana | 10 mins |
| Nether Wart | 1 Nether Wart Block | 120 secs |