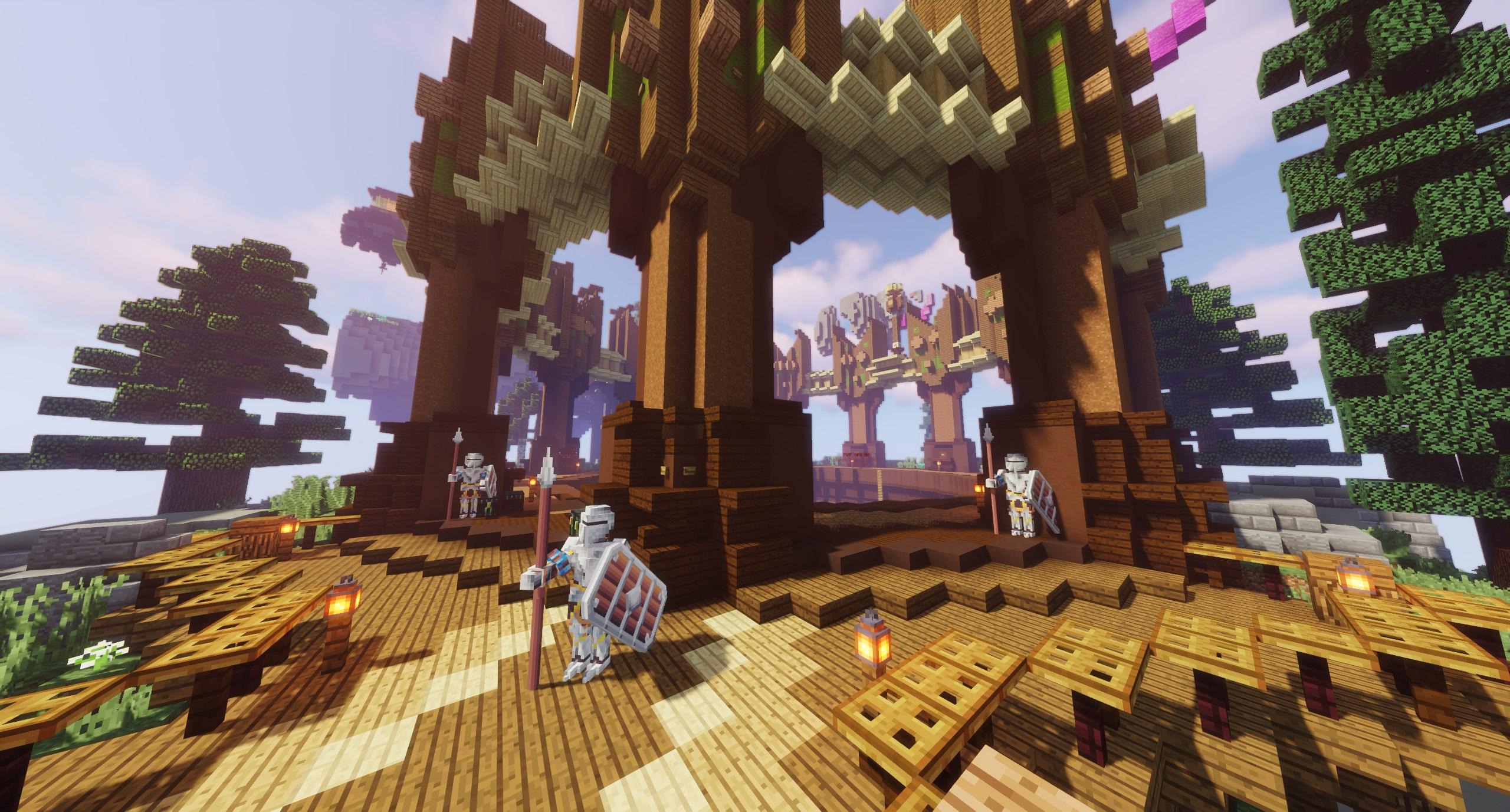 Skyblock has both Solo Quests and Island Quests. Solo Quests are discussed under Features. Quests are a simple way to earn Mana and other rewards by completing tasks. Island Quests are discussed below.
To view your current Quest list, use /quests.
¶ Island Quests
There are 5 tiers of challenges; beginner, intermediate, experienced, master and grandmaster. Each tier has a set of challenges you can complete for rewards. As you finish one tier, you unlock the next and an Island size upgrade. From completing quests you can gain up to a 320x320 block island, minions, and more!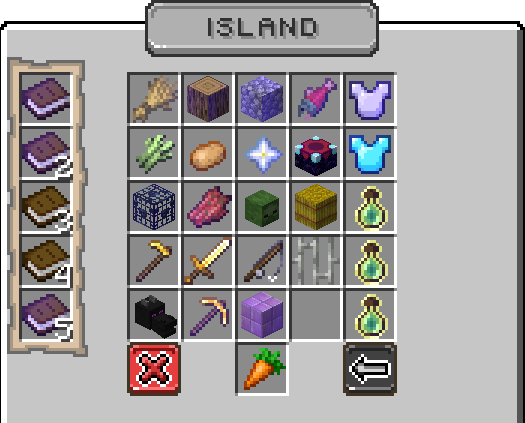 There are also weekly quests to harvest large amounts of a certain crop that you can do to receive a huge mana reward. Weekly quests reset every monday morning.
Here are the island size upgrades you get by completing each tier of challenges:
Default - 96x96
Intermediate - 128x128
Experienced - 192x192
Master - 256x256
Grandmaster - 320x320
Here is a list of the quests and their rewards:


Beginner Quests

Honest Work
Requirement: Harvest and hand in 64 wheat
Reward: 1 Diamond Hoe and 250 Mana

Lumberjack
Requirement: Chop and turn in 64 oak logs
Reward: 1 Diamond Axe and 250 Mana

Stone Miner
Requirement: Mine 300 cobblestone
Reward: 1 Diamond Pickaxe and 250 Mana

Fishermen
Requirement: Catch 20 fish
Reward: 1 Fishing Rod [Luck of the Sea 2, Lure 2] and 250 Mana

Apprentice Blacksmith
Requirement: Craft a set of iron armor and a set of iron tools
Reward: 1 Anvil and 250 Mana
Intermediate Quests

Sugar Rush
Requirement: Harvest 200 sugar cane
Reward: 16 mycelium and 600 Mana

Potato Farmer
Requirement: Harvest 200 potatoes
Reward: 1 Ocelot Egg, 1 Nametag, and 600 Mana

Daily Grind
Requirement: Claim 15 Daily Rewards
Reward: 2 Villager Eggs and 600 Mana

Experienced
Requirement: Enchant 10 Items
Reward: 64 Lapis and 600 Mana

Master Blacksmith
Requirement: Craft a set of diamond armor and a set of diamond tools
Reward: 2 Mending Books and 600 Mana
Experienced Quests

Time To Grind
Requirement: Place a spawner
Reward: 12 Hoppers and 1,250 Mana

Wolves Den
Requirement: Slay 250 Mana Wolves
Reward: 3 Creeper Spawners and 1,250 Mana

Mob Experience
Requirement: Kill 100 of the following mobs: Zombie, Skeleton, Creeper, Zombie Pigmen, Blaze, Spider
Reward: 2,000 Souls and 1,250 Mana

Haven Harvester
Requirement: Harvest 10,000 Resources in Wolfhaven
Reward: 1,250 Mana and 10,000 Use Harvester Hoe

Experienced Island
Requirement: Reach island level 25
Reward: 1 Ancient Chest Key and 1,250 Mana
Master Quests

Master Farmer
Requirement: Harvest 250 of the following crops: Wheat, Sugar cane, Pumpkin, Melon, Potato, Beetroot, Carrot, Bamboo
Reward: 1 Farming Boots and 2,000 Mana

Mob Master
Requirement: Kill 5,000 mobs
Reward: 1 Zombie Pigman and 2,000 Mana

Lucky Catches
Requirement: Catch 50 items from the Mana Pond
Reward: 1 Rare Enchantment Book and 2,000 Mana

Boss Battle
Requirement: Participate in killing of 2 Bosses
Reward: 3 100% Black Scrolls and 2,000 Mana

Master Island
Requirement: Reach 50 Island Level
Reward: 2 Teleport Pads and 2,000 Mana
Grandmaster Quests

Victory
Requirement: Complete the Ancient Trials
Reward: Holy White Scroll and 6,000 Mana

One More Block
Requirement: Break 50,000 blocks
Reward: 1 Trench Pickaxe and 6,000 Mana

Morender
Requirement: Kill 10,000 Morend Monsters
Reward: 3 Chunk Hoppers, 1 Mooshroom Spawner, and 6,000 Mana

Fireman
Requirement: Kill 10,000 Burninglands Monsters
Reward: 10,000 use Sell Wand, 1 Villager Spawner, and 6,000 Mana

Grand Master Island
Requirement: Reach 125 Island Level
Reward: 1 Iron Golem and 6,000 Mana
Weekly Quests

Carrot Grind
Requirement: Harvest 10,000 Carrots
Reward: 3,000 Mana

Potato Grind
Requirement: Harvest 10,000 Potatoes
Reward: 3,000 Mana

Wheat Grind
Requirement: Harvest 10,000 Wheat
Reward: 3,000 Mana

Wart Grind
Requirement: Harvest 10,000 Nether Wart
Reward: 3,000 Mana

Cocoa Grind
Requirement: Harvest 10,000 Cocoa Beans
Reward: 3,000 Mana

Pumpkin Grind
Requirement: Harvest 10,000 Pumpkins
Reward: 3,000 Mana

Melon Grind
Requirement: Harvest 10,000 Melons
Reward: 3,000 Mana

Berries Grind
Requirement: Harvest 10,000 Sweet Berries
Reward: 5,000 Mana

Bamboo Hoarder
Requirement: Harvest 10,000 Bamboo
Reward: 3,000 Mana

Trader
Requirement: Trade with 750 Villagers
Reward: 500 Mana, and 20 Emerald Blocks