In the Factions community, players are able to compete against each other for prizes. You can climb the leaderboards and earn rewards, but you'll have to constantly grind to stay ahead of the competition.
Some leaderboards give in-game rewards such as titles, gear, and money. In more competitive leaderboards, you can win your faction a large sum of store credit or IRL money, varying from $25 to $250 cubits.There are a range of leaderboards on factions to make sure the competition never stops! Good luck, and may the best factions rise on top! Payout times have recently been changed to be calculated at 2:00 PM EST.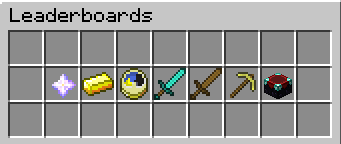 This leaderboard calculates the players with the most total crops harvested, most useful during Grace Week of the Factions season.
The farming leaderboard is shown with /farming.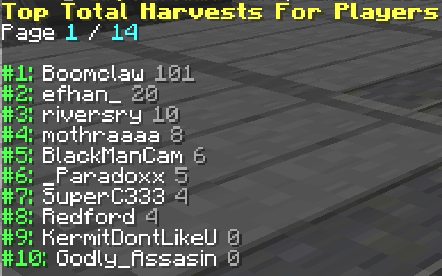 The top 3 players on the farming leaderboard also receive payouts at the end of each month, all receiving a giftcard that is redeemable in the ManaCube Store. The top 3 players earn $50, $25, or $10 cubits which can be used in the ManaCube Store.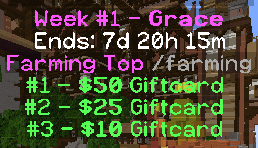 This leaderboard calculates the value of your faction based on placed spawners. Make sure to keep those spawners safe because if they're broken or taken away, your faction will lose its wealth. Spawners can only be stored in chests within your own claimed land.
The wealthiest faction leaderboard is shown with /f top.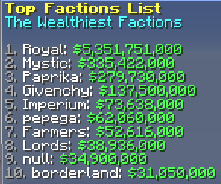 This displays the top 10 factions on the server. If you wish to see below the top 10 factions, you can type /f top 2, /f top 3 and so on.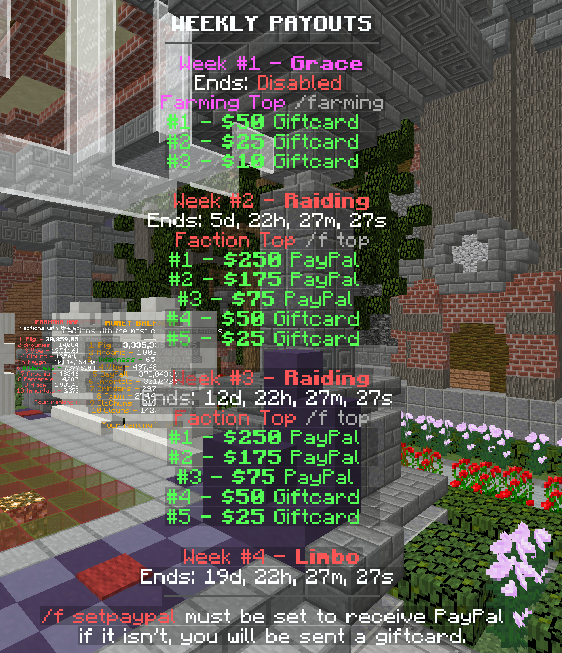 The top 5 wealthiest factions also receive payouts at the end of each Raiding Week, all receiving cubits that may be used across our servers. The top 5 factions earn $25, $50, $75, 175 and $250 cubit rewards in game.


Spawners will no longer start at 10% of value when placed and will instead take 24 hours after placement before gaining value starting from 0% -> 5% -> 10% -> 25% -> 50% -> 100% (It will take 5 days to reach max value).
You can teleport to /warp lead to navigate to these leaderboards. There are currently no rewards for being on these leaderboards.
Richest Players - Similar to FTOP, there is a leaderboard for players with the most money. This calculates in-game wealth, not cubits or IRL money. The top 10 wealthiest players can be shown with /baltop. If you wish to see below the top 10 wealthiest players, you can type /baltop 2, /baltop 3 and so on.
Most Mana Balance - This leaderboard consists of the players with the highest mana balance. Mana can be earned through harvesting crops, such as sugar cane.
Most Mob Kills - This leaderboard consists of players with the most mob kills. Please note that mobs do not spawn naturally, and only spawn via spawn eggs and spawners.
Most Player Kills - This leaderboard displays the players who have killed the most players in combat. You can get player kills from /warp pvp, combat during raids, or team fights in the wilderness, /wild. Due to the wide variety of timezones, this leaderboard will be constantly changing. Literally, you will need to fight for the top.

While there is no reward for being on the leaderboard, there are rewards given for achieving a certain amount of player kills. You can view some of the rewards with /pvp which includes money, diamonds, spawners, kits, and tags.
Any cheating, e.g. hacking, bug abuse, etc. may result in a temporary or permanent ban from the leaderboards.
NOTE: If you feel you were falsely banned from the Leaderboards please file a ban appeal on the Forums.