There are multiple types of enchantments that can be applied to your armor, weapons, and tools. The main type of enchants are the custom enchantments bought with vanilla XP. You can also enchant your armor with a vanilla enchantment table found in /shop.


Custom enchantments can be applied to armor, tools, and weapons. However, they are no longer able to be applied to items with Season Vault Access. All custom enchantment books cost vanilla XP, from a range of 30, 50, 80, and 180 XP levels. There are 4 types of custom enchants: common, rare, legendary, and heroic. There is an option to purchase a Vanilla Enchantment book for 20 XP levels.
Custom enchants can be bought with /ce, or by warping to the enchanter at spawn, /warp enchanter, and clicking on the NPC. To purchase a custom enchant, left-click on the book under the glass pane that corresponds with the type of custom enchantment that you want, green for common, blue for rare, red for legendary, and purple for heroic. Right-click the book to open it and you will receive a random enchant in that category.
These enchantments are able to be disenchanted using a black scroll from /kilton. Custom enchant books will always have 100% success rate. They can also be combined at the blacksmith, /blacksmith, to obtain higher level enchants. Information on custom enchantments can also be displayed with /enchant (name of enchant).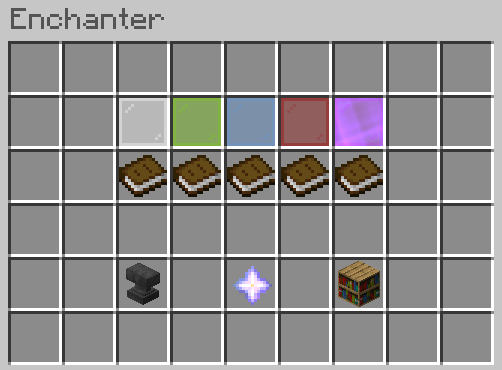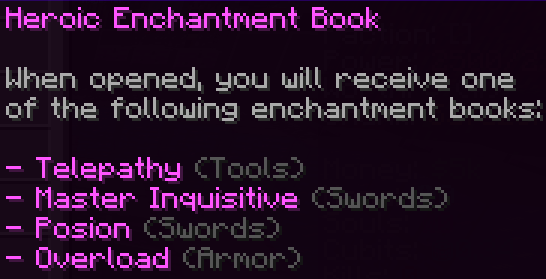 Heroic: 180 XP Levels

Before you can purchase Heroic enchantments, you need to obtain the Heroic perk in the Quest Shop, /questshop. The perk costs 10 quest points which can be obtained by completing the daily quests, /quests.



Telepathy automatically puts broken blocks into your inventory.
Max Level: 1
Applicable to: Pickaxes, Axes, Shovels



Master Inquisitive massively increases XP drops from killing mobs. It requires Inquisitive 4 on the item to be applied.
Max Level: 3
Applicable to: Swords



Poison has a chance to deal a poison effect on players you attack.
Max Level: 3
Applicable to: Swords



Overload gives a permanent increase in hearts. Hearts given by overload do not stack with overload on multiple pieces of armor.
Max Level: 2
Applicable to: Helmets, Chestplates, Leggings, Boots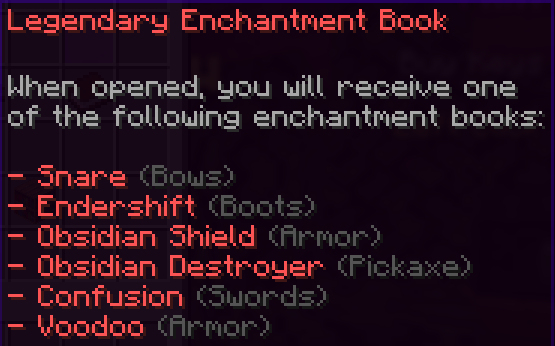 Legendary: 80 XP Levels




Snare gives a chance to slow and fatigue enemies when you shoot them with projectiles.
Max Level: 4
Applicable to: Bows



Endershift gives a speed and health boost when your health bar is low.
Max Level: 3
Applicable to: Helmets & Boots



Obsidian Shield allows you to have permanent fire resistance.
Max Level: 1
Applicable to: Helmets, Chestplates, Leggings, Boots



Obsidian Destroyer gives a chance to instantly break obsidian blocks.
Max Level: 5
Applicable to: Pickaxes



Confusion gives a chance to deal nausea when attacking players.
Max Level: 2
Applicable to: Swords



Voodoo gives a chance to deal weakness when players attack you.
Max Level: 3
Applicable to: Helmets, Chestplates, Leggings, Boots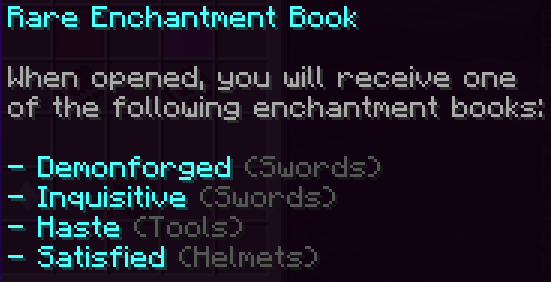 Rare: 50 XP Levels

Demonforged increases the durability loss on your enemy's armor in combat.
Max Level: 4
Applicable to: Swords



Inquisitive increases the amount of vanilla XP gained from killing mobs.
Max Level: 4
Applicable to: Swords



Haste allows you to swing your tools faster.
Max Level: 3
Applicable to: Axes, Pickaxes, Shovels



Satisfied passively restores +1 hunger every few seconds.
Max Level: 3
Applicable to: Helmets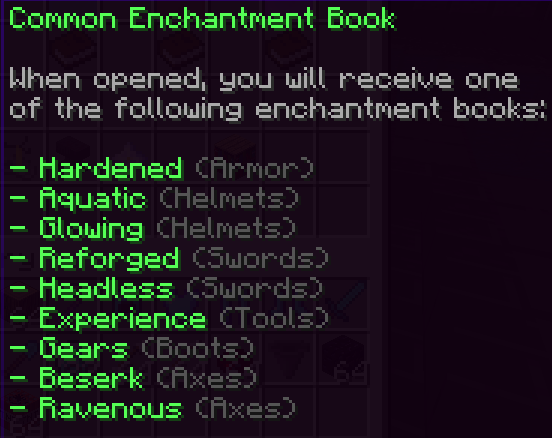 Common: 30 XP Levels

Hardened allows your armor to take less damage in durability.
Max Level: 3
Applicable to: Helmets, Chestplates, Leggings, Boots



Aquatic gives permanent water breathing while wearing helmets.
Max Level: 1
Applicable to: Helmets



Glowing gives permanent night vision while wearing helmets.
Max Level: 1
Applicable to: Helmets



Reforged protects the durability of weapons and tools, preventing them from breaking for a longer period of time.
Max Level: 10
Applicable to: Swords, Axes, Pickaxes, Shovels



Headless grants a higher chance to receive a victim's head on death.
Max Level: 3
Applicable to: Swords



Experience gives bonus vanilla XP from mining ores or breaking blocks.
Max Level: 5
Applicable to: Pickaxes, Shovels



Gears grants permanent speed while wearing boots.
Max Level: 2
Applicable to: Boots



Berserk grants the chance of dealing hits with strength I.
Max Level: 2
Applicable to: Axes



Ravenous gives a chance to regain hunger while in combat.
Max Level: 2
Applicable to: Axes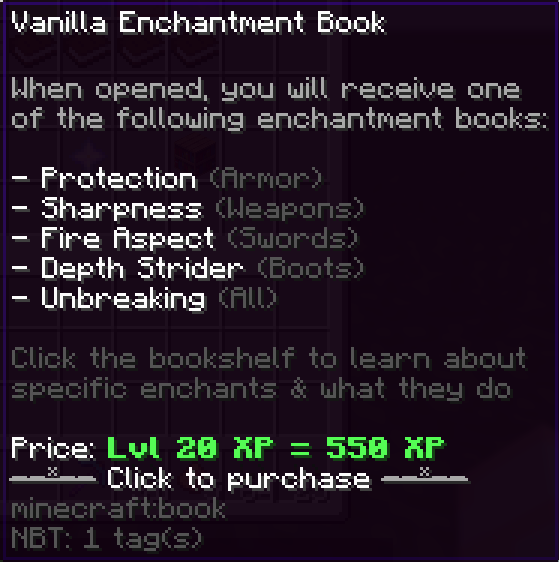 Vanilla: 30 XP Levels

Protection increases the armor's damage reduction.
Max Level: 4
Applicable to: Helmets, Chestplates, Leggings, Boots



Sharpness increases your melee damage.
Max Level: 4
Applicable to: Weapons



Fire Aspect allows you to light your enemies on fire.
Max Level: 2
Applicable to: Swords



Depth Strider allows you to move around faster in water.
Max Level: 3
Applicable to: Boots



Unbreaking reduces durability loss on your armor.
Max Level: 4
Applicable to: All