Season Vault is a vault that you can access when game modes are soon to get a reset. To open it do /vault or /seasonvault or /resetvault. You must be VIP or higher in order to open the vault.
During the season of game modes you may collect items called "Seasonal Vault Items", those items will grant you access to the Season Vault at the end of every season.
A GUI will pop-up and you will be able to introduce season vault access items if inside the period of time given. Depending on the server, vault sizes may vary.
Survival: 9 Slot Vault.
Islands: 18 Slot Vault.
Skyblock: 27 Slot Vault.
Olympus: 27 Slot Vault.
Factions: 54 Slot Vault.
You may check the items you are allowed to include in your Season Vault in the News and Announcements section on the forums or in our #updates Discord channel.
CAUTION - All reset vaults are manually reviewed before being added to each game mode season, and any attempting to glitch in any unallowed items will cause your entire vault to be deleted.
Players typically get these items from opening Promotional Crates, for more information regarding keys you may want to visit our What Can I Buy? article.
Below you will find an example on a "Seasonal Vault Access" item. You can verify its authenticity at the bottom of the information tab.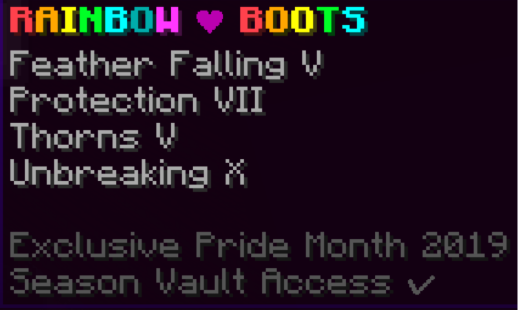 As every game mode varies their reset times, a post may be made on the forums regarding the items that are included inside the Season Vault, and the deadline for its close.
When doing /vault or /seasonvault or /resetvault, you will be told if you are trying to introduce the wrong item if not a season vault access item, and every time you open it a message will pop-up in chat letting you know when it is going to be closed.



After the season vault closes, you will have to wait to open it back once the new season for that game mode is up, once there, you may open your season vault doing /vault or /seasonvault or /resetvault.