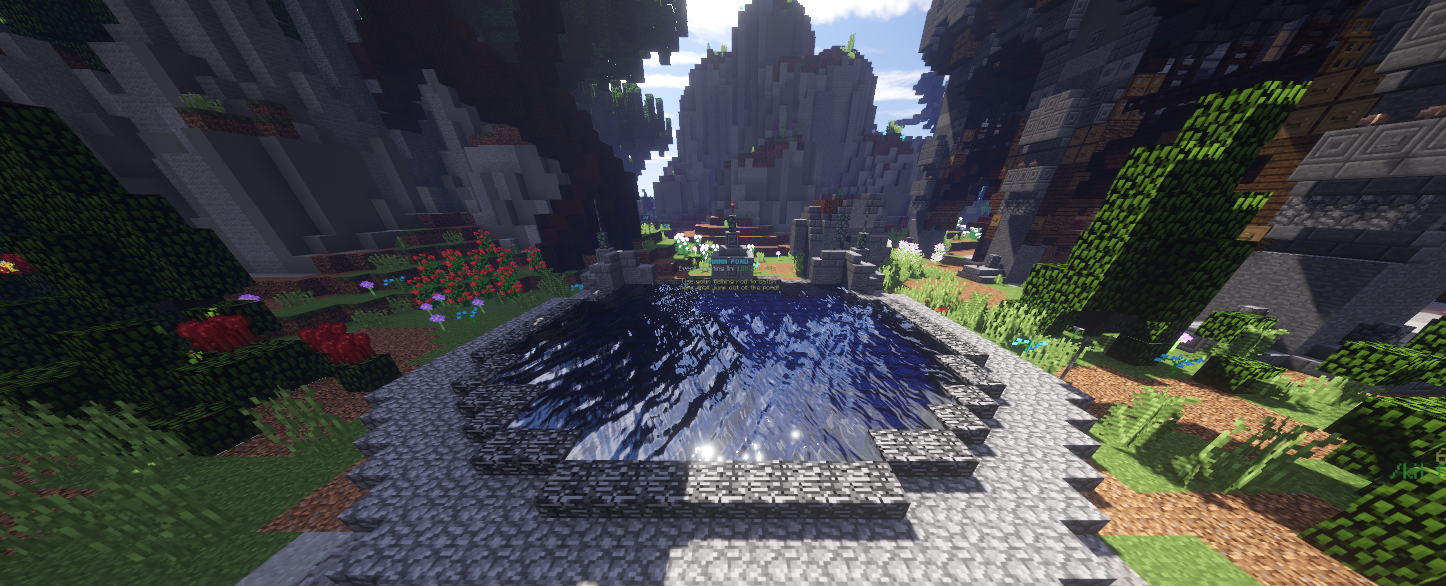 The Mana Pond is a unique way to earn loot and rewards in Olympus, Survival, Islands and Skyblock. Random items will jump up from the pond and you must use a fishing rod to catch them.


When the Mana Pond starts, a message will pop up in chat to notify everyone. You can warp to the pond with /warp pond to get there. To receive a fishing rod, you can use /kit fishingrod. Items will fly up out of the Mana Pond for you to catch with the fishing rod. To efficiently catch the items, aim your fishingrod a bit below the items so they hit the end of your fishing rod and then right-click to reel them in. The items will appear in your inventory so no one can steal them.



The Mana Pond occurs at 3 times during the day: 10AM EST, 2PM EST and 6PM EST. There's a 4th time at 10:00 PM EST on Survival. To check how much time you have until the next Mana Pond, you can press the TAB Button on Olympus and look at the top of the player list, displaying a cooldown timer.


Skyblock
Olympus
Survival
Islands
Legendary

Legendary Treasure Key 1x
Legendary Mana Crystal [5000 Mana] 1x
Legendary Enchantment Book 1x
Title
Rare

Rare Enchantment Book 1x
Rare Mana Crystal [1500 Mana] 1x
Emerald Blocks 8x
300 Use Sell Wand 1x
Ancient Treasure Key 1x

Uncommon

Gold Blocks 8x
100 Use Sell Wand 1x
Magic Dust 1x
Randomization Scroll 1x

Common

Golden Apple 1x
25 Souls 1x
Common Mana Crystal [250 Mana] 1x
Common Enchantment Book 1x

Junk

Leather Boots 1x
Name Tag 1x
Saddle 1x
25 Slime Balls 1x

Legendary

Iron Golem Spawner 1x
Enderman Spawner 1x
Dragonfruit Bombs 64x
Legendary Mana Crystal (25000 mana) 1x
Sell Multiplier Token (75%) 1x
Teleport Pads 2x
Legendary Treasure Key 1x
Title
Rare

Ancient Treasure Key 1x
Rare Mana Crystal (5,000 mana) 1x
Dragonfruit Bombs 32x
Pot of Gold 1x
Zombie Spawner 1x
Skeleton Spawner 1x
Sell Wand [300 use] 1x
50% Success Magic Dust 1x
Legendary Enchantment Book 1x
Emerald Blocks 64x

Uncommon

Huge Money Pouch 1x
Pig Spawner 1x
Chicken Spawner 1x
Dragonfruit Bombs 16x
Rare Enchantment Book 1x
20% Magic Dust 1x
5000 EXP-Bottle 1x
Builder Wand (100 Use) 1x
Diamond Blocks 64x

Common

Common Mana Crystal (1,000 mana) 1x
God Apple 1x
Magma Cream 32x
Common Enchantment Book 1x
5% Success Magic Dust 1x
2000 EXP Bottle 1x
Sell Wand 100 use
Gold Blocks 64x

Junk

Raw Fish 1x
Leather Boots 1x
Name Tag 1x
Ink Sac 1x
Saddle 1x

Legendary

Enderman Spawner 1x
Blaze Spawner 1x
Legendary Mana Crystal (5,000 mana) 1x
Randomization Scroll 1x
Teleport Pad 1x
Legendary Treasure Key 1x
Title
Rare

Ancient Treasure Key 1x
Rare Mana Crystal (1,500 mana) 1x
Pot of Gold 1x
Zombie Spawner 1x
Skeleton Spawner 1x
Sell Wand [300 use] 1x
Success Magic Dust 1x
Legendary Enchantment Book 1x
Emerald Blocks 8x

Uncommon

Huge Money Pouch 1x
Pig Spawner 1x
Chicken Spawner 1x
Kilton Souls 25x
Rare Enchantment Book 1x
Success Magic Dust 1x
2,000 XP Bottle 1x
Builder Wand (100 Use) 1x

Common

Common Mana Crystal (250 mana) 1x
God Apple 1x
Slime 25x
Common Enchantment Book 1x
1,000 XP Bottle 1x
Sell Wand 100 use
Gold Blocks 8x

Junk

Raw Fish 1x
Leather Boots 1x
Name Tag 1x
Saddle 1x